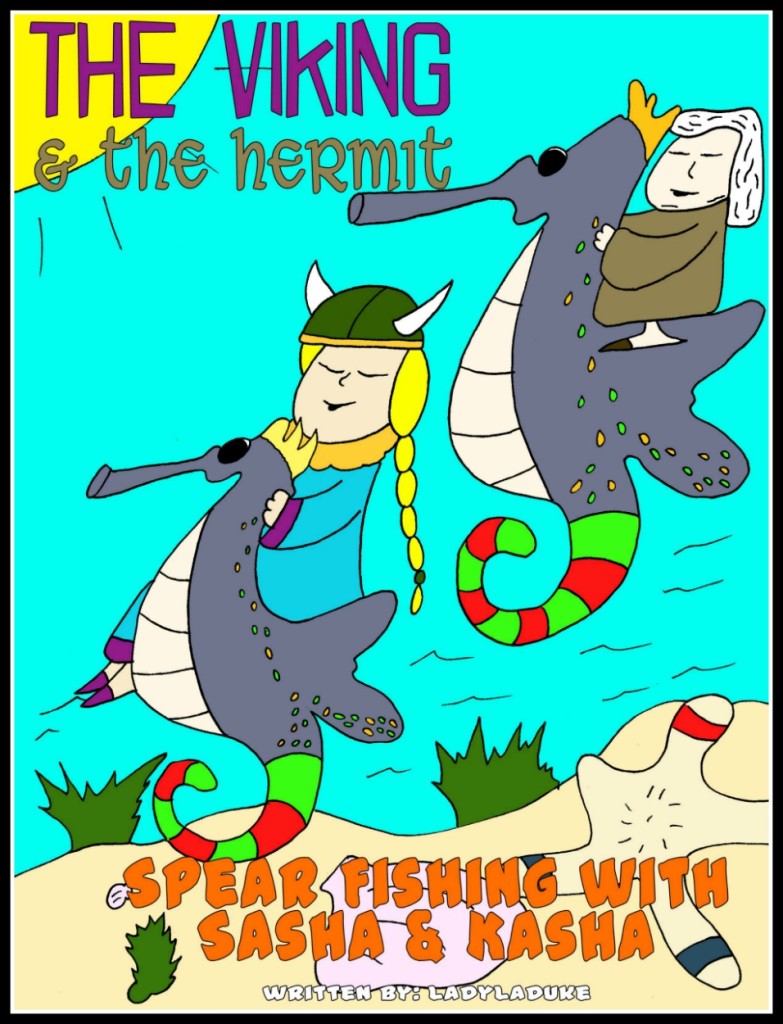 Kids Books: Our Children's Nook for Illustrated Adventure!
Meet Viking & Hermit, who live on Hermit Island…a place of myths to some, but home to a Viking and a hermit.
In your first illustrated children's book adventure, come along with Viking to learn Spear Fishing with Sasha & Kasha. Viking may have speared fish before, but not on Hermit Island, and Hermit will show her the way.
Your Book 2 illustrated adventure for kids continues with Viking learning and practicing to spear fish from Hermit, while avoiding the pesky sea star grabbas, who would like to steal and eat her fish…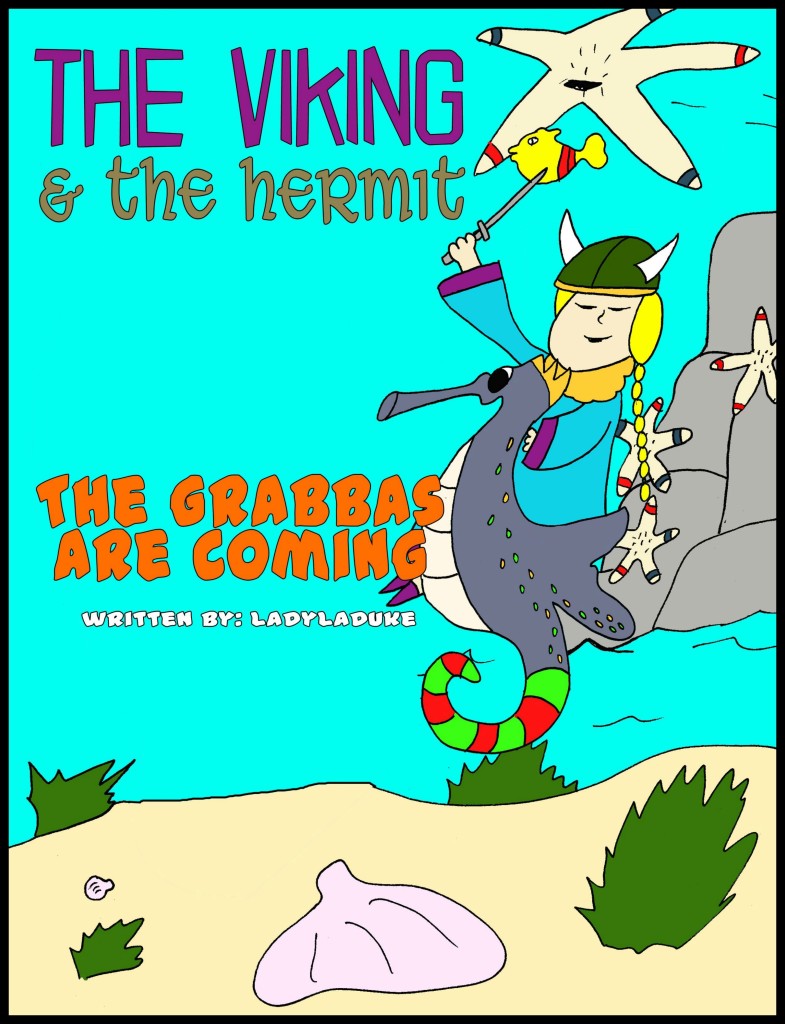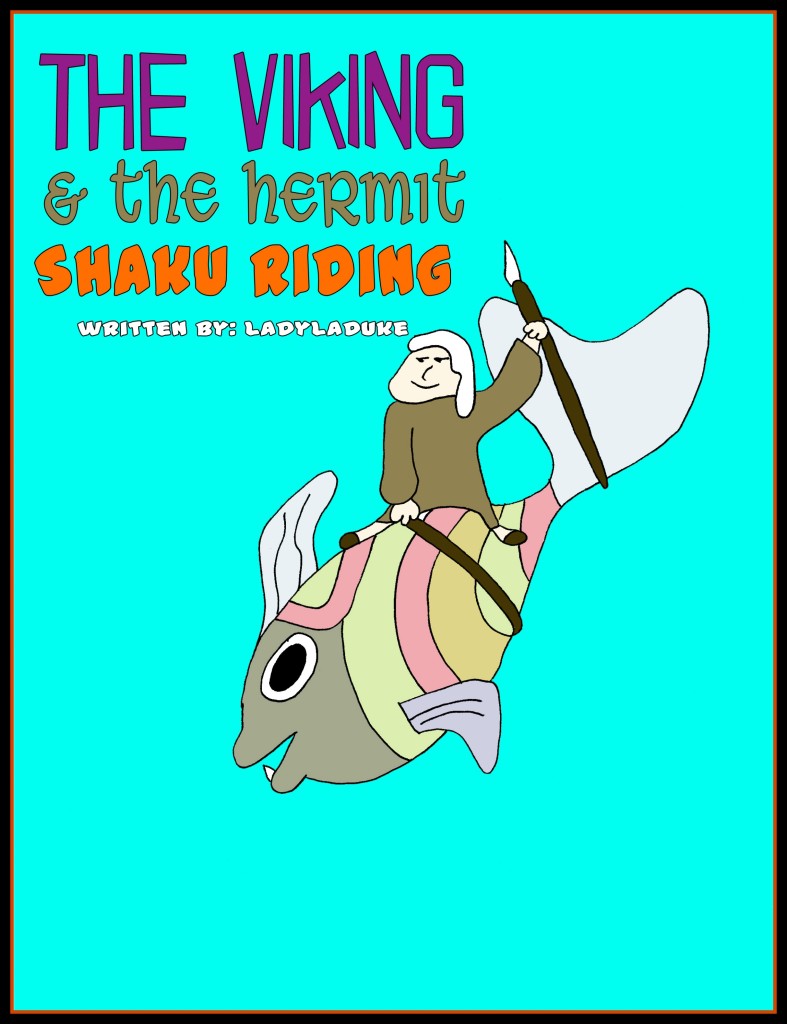 All 3 Illustrated Children's Books now available in print on Amazon…Viking and Hermit illustrated books combined!

Books Children's Illustrated Bonus: As well as a Coloring Story Book and Sketch Book for your kids to color in their exciting tale of illustrated adventure…
If your kids like to color, you can get our Viking & Hermit Coloring Book that is a special collection of original sketches and illustrations from Books 1, 2 & 3 in our Etsy Shop…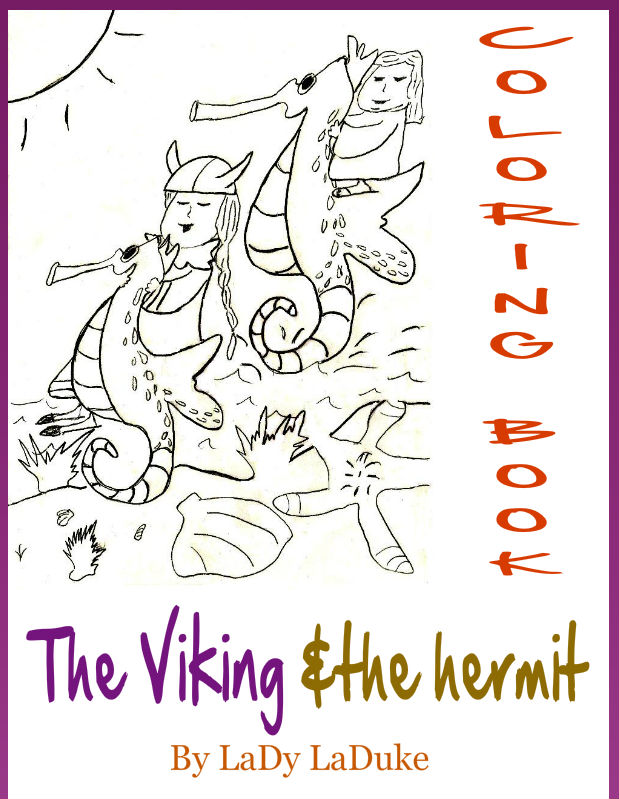 Illustrations can be for everyone, and your children's skills can grow with practice from Viking and Hermit's Sketchbook…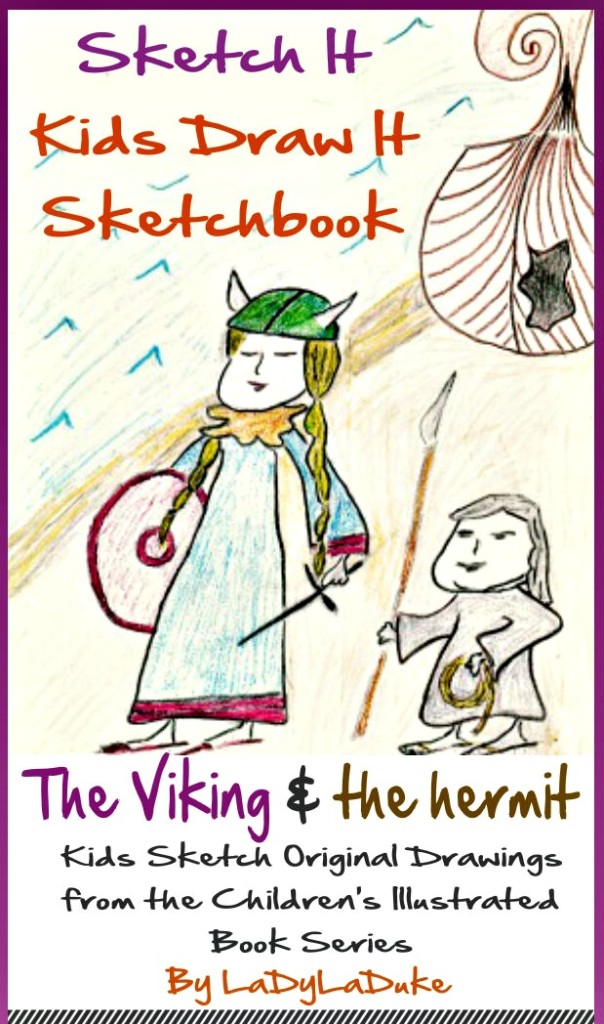 These children's books and more, like About the Vikings, The World of Hermit Island & Hermit Life are also FREE with any LaDy LaDuke purchase.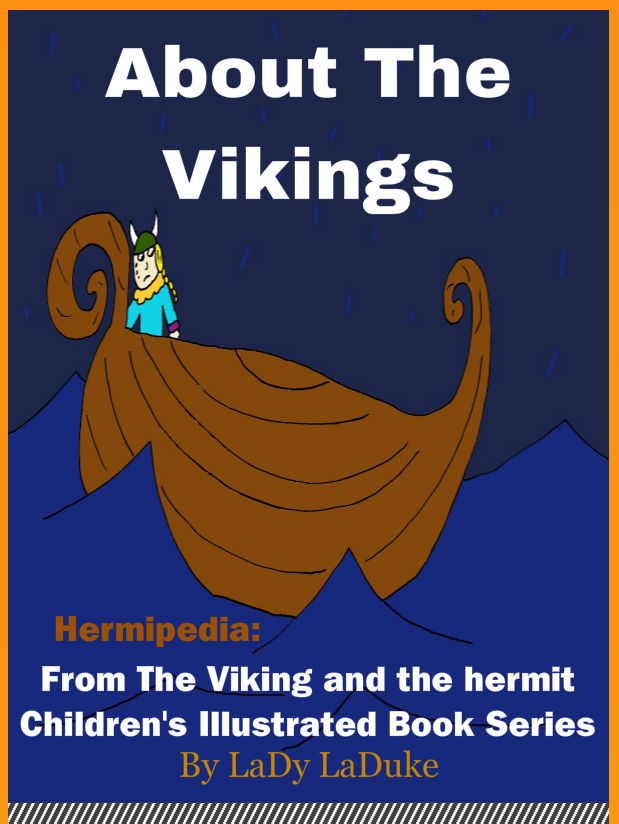 Why do we write and illustrate children's books?
It all started with a joke that runs in our family.  We have a number of tall and viking-like members, and some are not so tall.  The tall ones like to lovingly rub it in.
I usually joke to my husband, and this is when I am wearing my tall heels, that "I can't help that I'm viking and he is hobbit".
Well, hobbit became hermit, and I knew that the two characters together would be so fun and interesting!  Just like with everything here at LaDy LaDuke, I call Betina to see what she thinks, and this time to see what her kids think.
It turned out to be a winner for a book series idea, and the kids love it. They especially like to collaborate on the animal character details and the sketches that turn into illustrations for your children's illustrated books that we hope your children enjoy.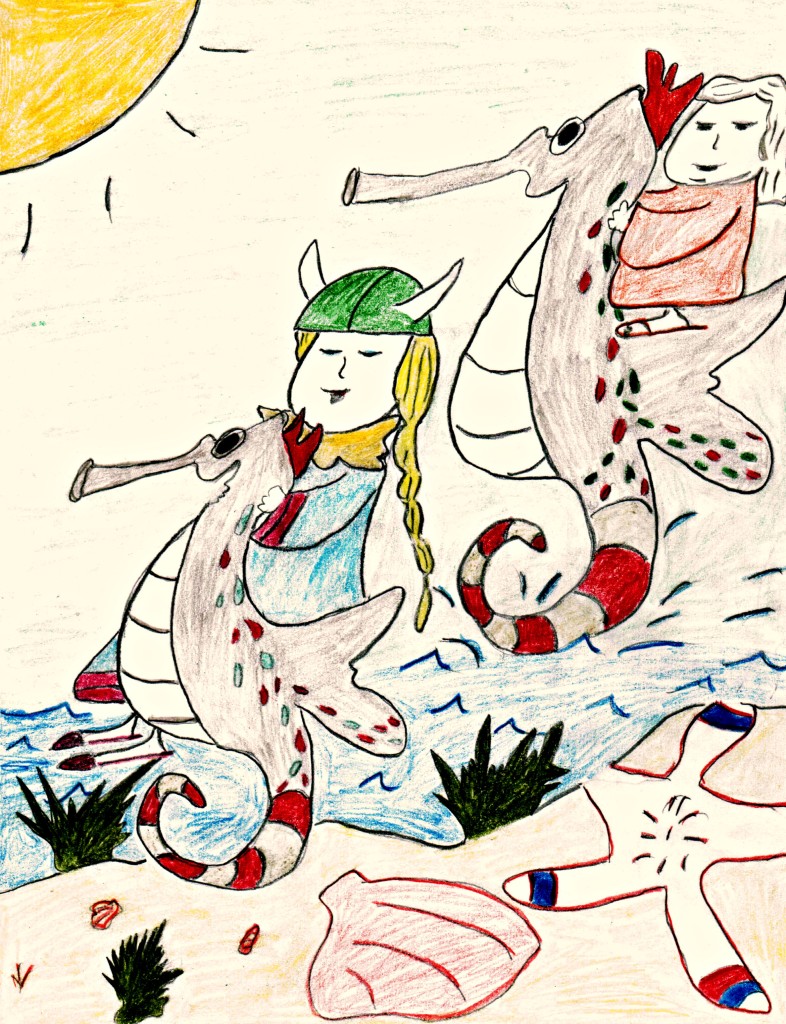 Why children's books are so good for kids and parents…
Each book will be an illustrated adventure as well as a lesson for children, so that parents can use their children's books series to explore new vocabulary and history, as well as explode kids' imaginations, and bring children into a creative mindset.
Create a Special Nook of Books Just for You & Your Children…
Kids reading books and spending time with mom and dad with books, can be the best thing for them and you, and we hope that you as all of our mom customers will have that special reading time to share with your kids.
You might come to us first for a nursing cover, but your boy or girl will eventually be reading kids books to develop their minds, while making that special connection with you and your family.  We prize family time too, and want to give you a way to bond again with your kids, just like when you were breastfeeding.
What's new at the illustrated children's book nook?
The Amazon paperback print version of Viking & Hermit Children's Books 1, 2  & 3 special combo is available for purchase, and you get the Kindle versions at a special price when you buy the print version.
Watching Betina's kids relish their time to sit and color, as well as sketch ideas, animals and characters inspired the idea for a both a coloring book and sketch book.  You can choose either one when you buy from our LaDy LaDuke Etsy Shop! Also look for our Hermipedia Kids Books: a made up encyclopedia and mix of fact and fiction for all life and activity on Hermit Island.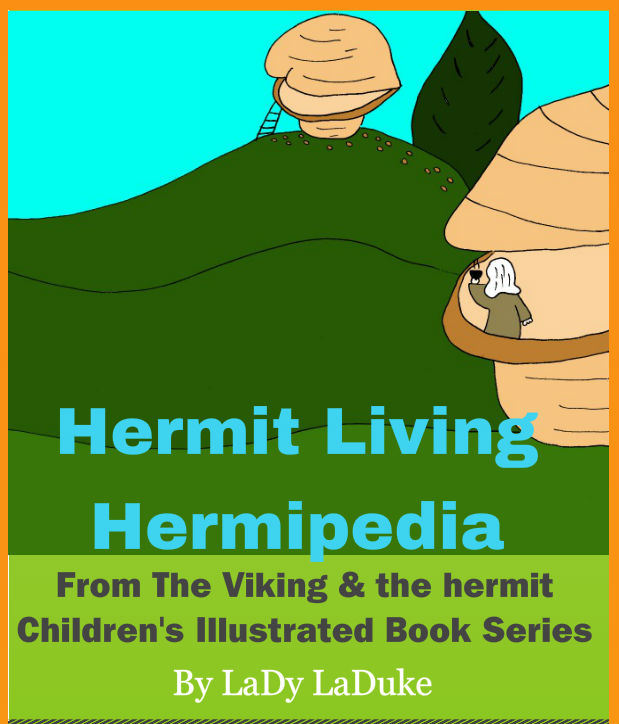 We always add more Hermipedia on our book's website, www.thevikingandthehermit.com  It's both for fun and learning, and both for you and your children, so that you get as much out of reading and enjoying your illustrated children's books as much as your children do.
Here's a sampling from Hermipedia…
Book Nook: Today's Hermipedia Feature: Viking Ship
Viking set sail, leaving her village in the dark, stormy night on her Viking Ship. She didn't know where she was going, except away, and sailed many days and nights before seeing a lone island in the distance.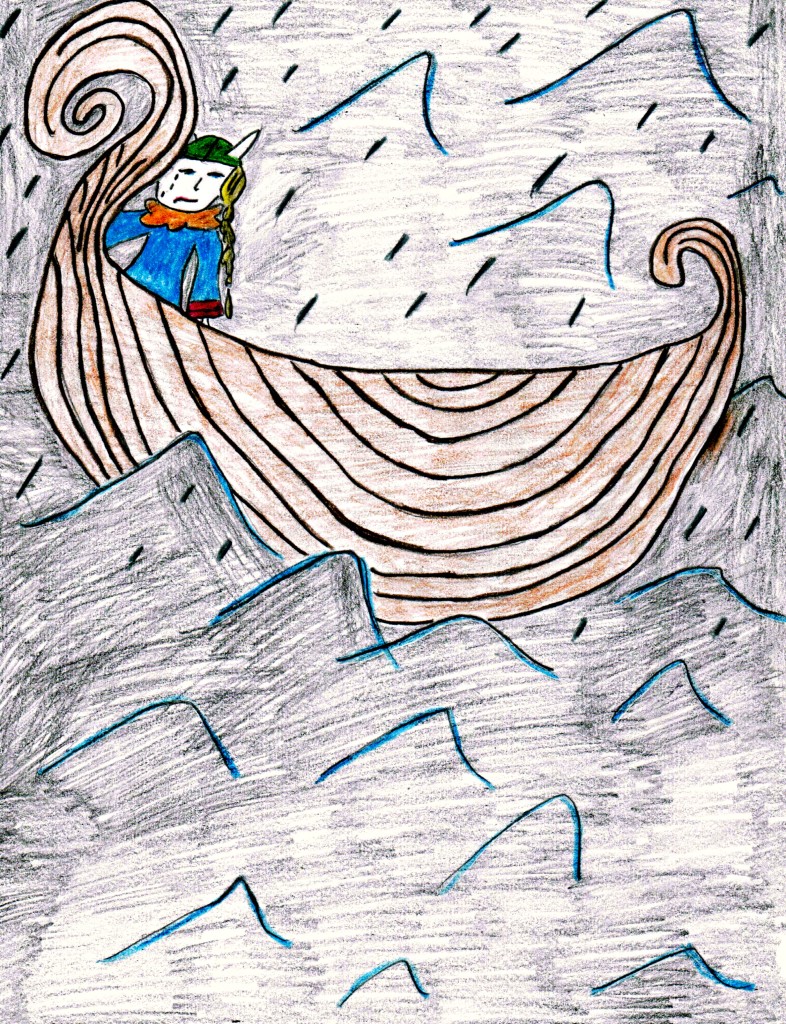 This is the very first sketch drawn to get the ball rolling and creative writing flowing, establish the look and feel of our characters, and set the setting of Hermit Island for our illustrated children's book series…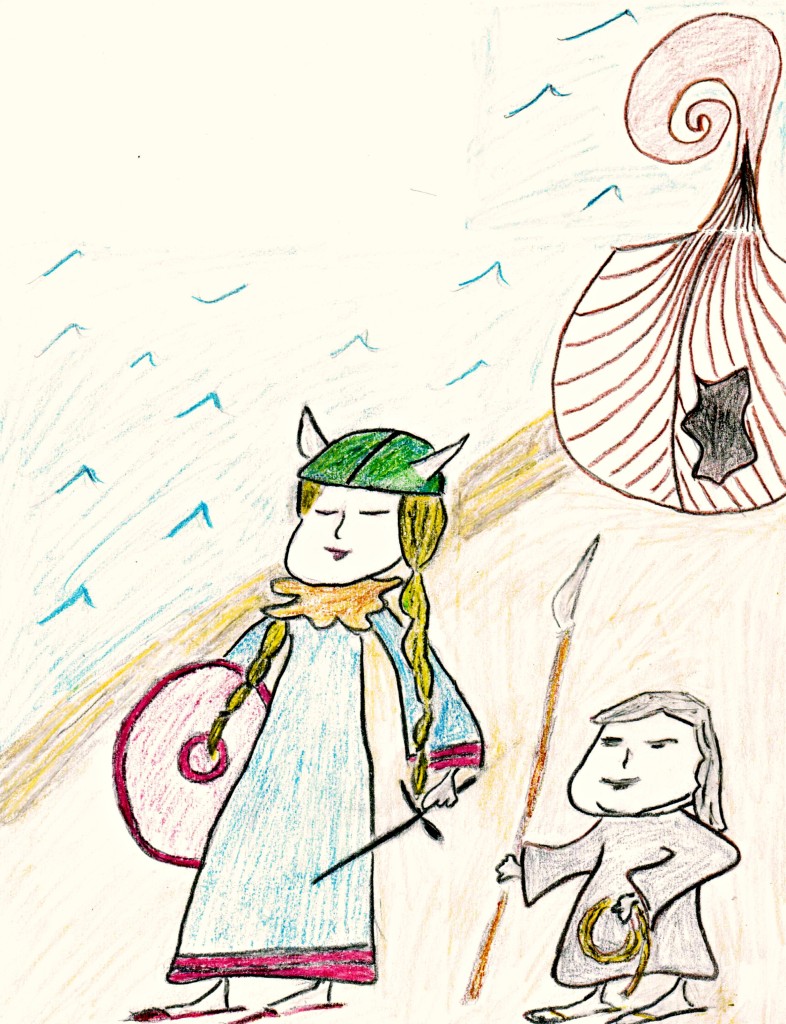 Your first, second and third books are currently available on Amazon Kindle, with the more green print version of books 1-3 too.  Even though more and more children are reading books from Kindle, not everyone has one. We want all of you to have a print version of your books too.
Many children and parents like to hold a book physically in their hands, and turn the pages for the full experience of reading it. There might be a day when all children move to just reading digitally.
We personally will always treasure a physical book. How about you?
For reading books on Kindle, you don't necessarily need one…
If you don't have a Kindle device, you can still purchase the ebook version on Amazon by simply downloading it to your Kindle Cloud Reader. From the Cloud, you can choose to view it right in your web browser, and the book will appear for you on your computer screen.
The only requirement is to have an Amazon account, and be logged in to your orders to see your options. You can just follow the steps and options that guide you after your purchase to download, and read your book right on your screen.
Everyone might have a different browser with slight variants, but just look for the option to view it right in your browser.
Thank you for stopping in our Children's Illustrated Book Nook!
Go get reading with your kids…bond, learn, love and enjoy!
~Courtney & Betina, LaDy LaDuke
P.S. Visit our

Author Page

on Amazon and give us a like!