We are Moms in Business.
Would you like to be a Mom in Business, Mompreneur or Entrepreneur?
So many moms think they can't start a business, they don't know enough, or don't have enough time.  Probably the biggest factor holding Moms back though, is the fear to just take that leap, and do it.
If you were to ask us to describe a Mompreneur or what makes a Mompreneur, we would say,  "A Mompreneur just goes for it".
It is completely normal to feel that hesitation as a Mompreneur, and it's normal to feel nervous or anxious. We feel it every day too. It is just natural to fear the unknown, but if you can just let go of the notion of thinking you have to know everything before you start, and just go and start anyway, not knowing…congratulations!  
Mompreneur & Moms in Business-You did it! You took that step, and now you can take another.
Each day as Moms in Business, we take step after step, and guess what?
Those steps really add up.  
Think about writing down just 3 steps each day that you as a Mompreneur will take to either learn more or grow your business, and then think about multiplying 3 times 365.
In just 1 year's time, and just doing 3 steps a day, while you're still doing everything you need to do as Moms at home or for your family, you have 1,095 steps and actions that grew your business, created new income, built your credibility and network, and taught you one thousand times over.
That's not a bad way to add value to your lives as Moms and a new Mompreneur, and spend a year of your time, is it?
We're making this leap and steps even easier by handing you a ready-made home business. If you can sew, you can get a Mom Home Business Feeder Frock Nursing Cover Wholesale Kit ready to make you money.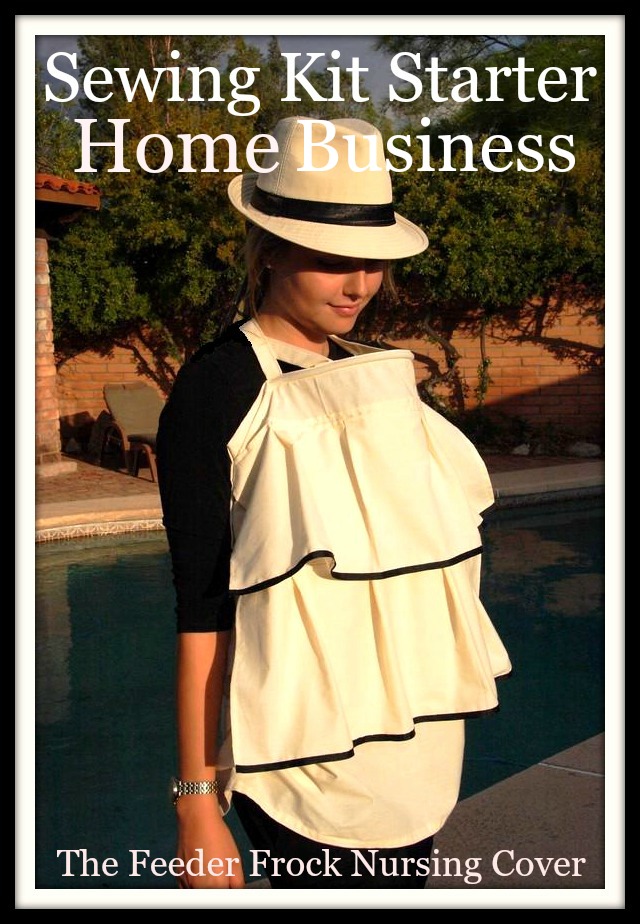 Home Based Business Kit for Your Home Business-Ready to Sew Pre-Cut Pattern and Fabric Feeder Frock Nursing Cover Kits at Wholesale Price Including Matching Carry Bags…
YOU JUST SEW THEM & SELL THEM AT HOME!
We've done most of the business work for you. Your materials and costs are calculated and taken care of for you. Just match our retail pricing, or sell the matching carry bag additionally, get your home based business investment back, and see profits!
You can have a Mom Business at home selling LaDy LaDuke Feeder Frock Nursing Covers to all your breastfeeding friends with the big business work done for you.
Get Help with Mom Business Online…
One of the challenges about being a new Mompreneur & Moms in Business, and starting a business online, which is very different from a "brick and mortar" business, is understanding how things work online. There is an additional education in the online business world that is necessary for a new Mompreneur & Moms to succeed.
Are you Moms feeling that fear of the unknown again?
You don't have to as a new Mompreneur these days. There are Moms in Business like we are, who have already been doing this online game of business for quite some time.  We made our mistakes, had our successes, and we are still here today running our businesses through it all.
Mompreneur Mistakes Give the Greatest Value.
In fact, the mistakes are really the best part, because without them, you just don't learn, and you really have no ability to help other Moms get through the same ones, or avoid them altogether from the start.
So, to help our fellow Mompreneur, as writers and authors over the past 6 years of running our online businesses, we have an extensive and growing collection of ebooks, how-to's, guides and tutorials all designed to address one problem and one solution at a time for any online business owner, not just Moms with a business. You can also enlist Courtney's Custom SEO Custom Services & Web Design.
If you as a new Mompreneur & Moms have questions about business, building a brand, blogging, keywords, SEO, social media, marketing, making money, getting traffic, building a list, making a physical product, creating a digital product, writing a book, getting published on Kindle, and Starting an Etsy Business…
We have you covered, Moms in Business!
Here are some books, complete starter kits and guides to help you the Mompreneur & Moms to start your business online…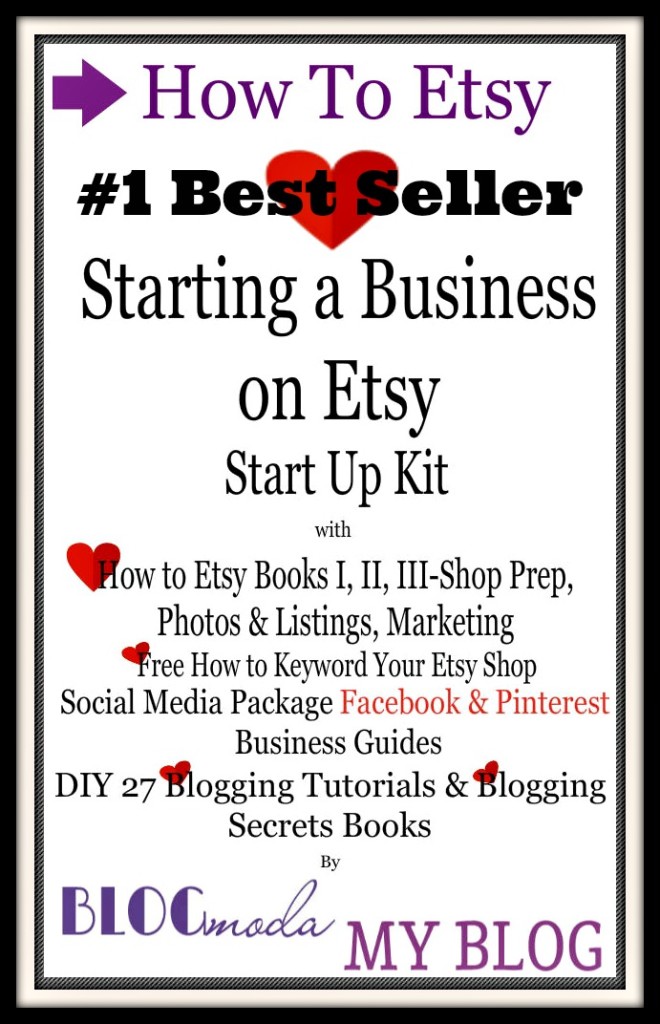 Have you Moms opened an Etsy Shop or want to become a Mompreneur with your own business shop?  This Starting a Business on Etsy complete Start Up Kit has everything you need, which packages together:
Moms-How to Etsy Books I, II & III
Mompreneur-How to Keyword Your Shop
Moms-A Social Media Package Guide for Facebook and Pinterest for Business
Mompreneur-Blogging Tutorials and How to Make Money with your Blogging Ebooks
*

Your Starter Kit has everything you need as a Mompreneur to start off on the right foot with your Etsy business, branding, costs, photos, listings, marketing, keyword research for better SEO, social media marketing and your ultimate tool to drive traffic and grow your biz through blogging.
Maybe you are Moms in Business who don't need this entire kit, but would like to know how to use marketing strategies better, or just to blog better.  You can get any of your one problem-one solution Mompreneur & Moms in business ebook answers separately:
BEST SELLER ON AMAZON! #3 in SMALL BUSINESS, #4 in WEB MARKETING, #5 in E-COMMERCE…
Plus Insider Tips from an Mompreneur Seller Veteran!
The first book in your Series covers Shop Preparation and Branding. If you're new to Etsy, wanting more sales, and wondering where they are, this Book series is for you. It's also perfect for anyone considering a new Mompreneur Shop and Business.
#1 AMAZON BEST SELLER IN COMMERCE, BUSINESS & MONEY, ARTS & PHOTOGRAPHY…
Mompreneur-Photos and Listings-How to Etsy Book Series-Book 2 with Bonus Insider Tips from a Seller Veteran for fellow Sellers…
Presentation is everything, and you'll learn it for both your buyers and Google!
The second book in your Moms How To Series covers Photos and Listings. 
This Book continues from Book 1 on Shop Preparation and Branding, so that you can take the next step to presenting photos and listings that sell. 
You'll take your FREE Bonus Keyword Research from Book 1, and use it to write your product descriptions for your best SEO and sales in Book 2.
Moms-Your Shop Marketing Book-Book 3 with FREE Bonus Insider Tips from a Mompreneur Seller Veteran, What To Do Right & Wrong, Plus About Your Business Special Client Form & Exercise for our fellow Mompreneur Sellers…
INTERNATIONAL BEST SELLER ON AMAZON! #1 in Business of Art, #2 in Arts & Photography, #3 in Commerce & BEST SELLER in Germany & Canada…
The third book in your Mompreneur & Moms in Business Series covers Marketing your Shop. 
You won't make sales unless you know who you are, who your customers are, and where they are, so that you can speak to them the right way through your marketing. All of this preparation, branding, research, homework and marketing in your 3 Books of the Series together, will keep you on the right path, and make you more sales. 
It's not enough to have the creativity and artistry alone in your products, you have to have the branding, presentation, online Search Engine Optimization and marketing strategies in place too.
Moms-Learn How To Keyword Your Shop with your Information Report for Moms, Shop Owners, Mompreneur Sellers & Business Artisans…
Start with 9 steps from converting your own ideas into keywords, to using the keyword tool effectively, and from research and discovery, to implementing your keywords into your Shop announcements, shop sections, about page, product descriptions, shop policies and public profile.
Mompreneur & Moms Learn About:
*9 Basic Steps to Utilize the Right Keywords for Your Shop
*Bonus How to Use the New Google Keyword Planner Quick Guide Supplement
Moms-Get Your Facebook On Beginner Facebook for Business eBook Guide & Marketing for Mompreneur Sellers, Business Owners, Bloggers…
Your GET YOUR FACEBOOK ON Book is a thorough business beginner guide, and will help you understand why Facebook is so important for your business, marketing, and ways to use it to help.
Plus, it will walk you through setting up your business page, and understanding how to use the business page features to guide your promoting and marketing strategies. The set up guide includes photos for visual aid. 
Even if you have already been using Facebook as a Mompreneur, this Book will remind you of how to focus your marketing efforts, make it work for you, and keep you on track.
Moms-Get How To Pinterest for Business: Learn from a Step by Step Action Plan…
Use Pinterest to help your business–especially your Etsy one! Know how to make Pinterest work for you.
In this Ebook Guide, a new Momprenuer & Moms Learn:
*Understanding Pinterest's Power
*Setting Up Your Profile
*Pinning
*Connecting with People
*What Not To Do on Pinterest
*Mobile Marketing
*Ways to Put Pinterest to Use
*Doing Pinboards, Hashtags and Tagging Right
*Includes a PowerPoint Slideshow
*Pinterest Checklist for Your Marketing Strategy
There are many ways to improve your Mompreneur blogging and blogsite, and they can all be done yourself. You don't have to hire an expensive web designer or programmer, or take an expensive class. You just get into your site on your own, and learn some very important skills that you can use throughout your entire career of blogging as a Mompreneur & Moms in Business.
Your I Love Blogging DIY Tutorials are designed to walk you through beginner, to intermediate to advanced stages, so that you can continue to grow and improve your work. As you make your way through each tutorial and each level, you can rest assured that you are gaining skills, learning better writing, and can take your blogging to the ultimate level of making your Mompreneur money.
First, If you are not blogging for your biz, you should be!
The first book in our Blogging Secrets Series covers the Secret Truth About Making Money. This is what they won't tell you, and what you need to know!
Why don't they talk about it? 
First, you never want to be negative, because it just doesn't go over, so it's easier to avoid revealing the tough stuff. I don't like being negative either, because you'll never make it in anything you do that way, but I do like revealing the truth, and then finding solutions and positive perspectives. You always learn so much more from your mistakes than from your successes.
Moms

-Blog Business 101

 Learn Blog Business 101 for Your new Mompreneur & Moms Business Blog with Easy Bullet Point Checklists Included…


A blog and business go hand in hand. Why? Because business online is all about words,and you have to use words to reach your customers and clients. What's the easiest way to use words? 

A blog.

If you have a business website without a blog, and notice sales are low and traffic is quiet, an active blog will change this. Plus your Mompreneur business blog can make you money on its own.

This is your start to learning what a Mompreneur business blog can do for you, and the checklists will open your eyes to the possibilities and potential you have to grow your business in an easy bullet point formula.
Moms-2015 Planner for Your Biz Plan=Build a List! Don't Leave Out the Number One Thing You Should be Doing for Your Mompreneur Business-Includes Bonus Feedburner to Mailchimp Set Up Guide…
Want to do the best thing you can do for your Etsy Business, Small Business or Mompreneur Blog? 
Build a list of subscribers, and watch your biz grow. Don't hit yourself on the head later on this one. Why should you build a list?
Because:
*You are free from the constant changes of Google or Facebook.
*Your list is traffic you own, and you can direct them anywhere.
*You have potential for repeat customers.
This comprehensive ebook covers everything from why you need a Mompreneur list, what it is, how to set one up, and how to market it once you have it. 


Moms-Learn to Twitter Your Business-Use Hashtags & Other Twitter Tools Effectively in This Ebook for Businesses, Bloggers, Biz Bloggers and Mompreneur Sellers Package…
This Twitter Book is a thorough Mompreneur beginner guide, and will help you understand why Twitter can help your business, and ways to use it. Plus, it will walk you through setting up your effective Twitter Profile, and understanding how to effectively tweet, use hashtags and more tools to guide your promoting and marketing strategies.
For your best deal as moms in business, or just starting your online business from home, check out our Biz Kit for Ebusiness.
It has all of the information you need packaged together for just $29. You'll get all the social media books from above, blogging for business 101, your keyword research guide, and how to build a list with email marketing.
And there are more ebooks, guides, tutorials and help for a new Mompreneur & Moms to start online. Stay tuned! Or take a look at Courtney's BLOGmoda My Blog to really learn, and get help for your success…

 Courtney & Betina~LaDy LaDuke