LaDy LaDuke Designs in Patterns, Plus Size Patterns & Outfit Fast Start Sewing Kits…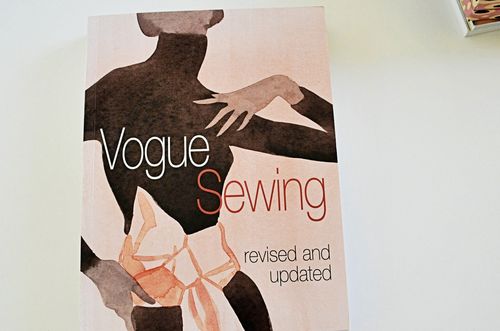 When Betina and I were little girls, we used to go straight to Cloth World fabric store with our Mom after swim team practice. 
I remember shivering in the cold air conditioning from being wet, even though it was at least 100 degrees outside, and my pruned fingertips gradually recovered as I leafed through the Vogue Patterns Book.
I loved to look at all the fashion design patterns and fabric.
Yet at home with my Mom on the kitchen table sewing her pattern, the paper pattern process just turned me off.
To me, paper patterns are tedious and annoying, and so I thought as a little girl that design and sewing just weren't in my cards.
Fast forward more than 30 years, and I discovered I do have design and sewing in my cards, as long as no paper pattern is involved.
Since I felt such an aversion to paper patterns, I thought maybe others are out there too, who would do very well in design and sewing otherwise.
PDF download Pattern Tutorials are great for this aversion, with steps and photos spelled out, yet I wanted to take the physical design pattern experience to a new and different level. I wanted an outfit starter.
When you are shopping online, you want the exact thing you see, right?
Why not have the exact thing you see for a design pattern too?
We are calling this physical design pattern outfit fast start revolution a Sewing Kit Starter!
What you see here as our Alicia Cotton Luxe Feeder Frock Nursing Cover, is what you get ready for sewing machine.
No store hassle!
The thing about fabric and the stores carrying it these days, is that it is not so inexpensive anymore, and the process to select, cut and purchase it is not so fast and easy.
I once had a friend suggest to have LaDy LaDuke customers get their fabric, and send it to me to sew. This is a friend who has never been to the fabric store.
Let me run through some of the typical scenarios I deal with at the store to understand why I'm trying to free you from it…
Fabrics have to work for a certain design pattern, needle and sewing machine. This takes practice and experience to know.
The fabric you need may be out of stock. To find it by description is impossible. You need the bolt with the sku #, and since it is gone, no one has the bolt to read the sku #.
You might be able to order it from the online source, which is named the same, but different. You can place an order, pay, get the notice of order confirmation, and learn that it is on back order for months a couple weeks later, when you were expecting and needing it to come to your door step. 
If you know to take a ticket number for the cutting line, you are in much better shape at number 97 with the service at 30, than the poor girl who thinks she is 31, and never grabbed a ticket.
By the way, you really aren't in better shape. We all usually let this poor girl go anyway, and any others who didn't take a ticket, so the line gets longer and longer.
At least at the purchase line it's first come first serve, but the line snakes around the store. By the time you finish, hopefully you got everything you needed!
All of this complication isn't anything you have to worry about with a LaDy LaDuke Sewing Kit Starter, and the fabrics and patterns you see on the models you like, are exactly what you can get, because they are tried and tested with a lot of customer feedback.
Plus, you get even more fabric options to customize your Kits, so that if you like a top with one outfit and a skirt with another, you can mix and match, and create your custom starter outfit.
The other thing about patterns is body sizing.
A paper pattern gives you a size range, but you have to know how to read it, and make it work. With a LaDy LaDuke Sewing Kit Starter, we do the sizing part for you.
Pretty much, all of the difficult parts of a home project are removed, and you get a satisfying learning experience, a very cute design, and the ability to still make more of the same design later with some practice under your belt from your PDF download.
It's just a nicer, more convenient way to have an outfit. You see it, you get it, you sew it, you can sew more later.
Let's get to LaDy LaDuke's design patterns, plus size patterns and sewing kit starters to help you navigate our home store.
This page will get updated often, as I plan to create PDF Download Patterns and Sewing Kits for most of the designs you see, including Nouveau Nursing clothes, LaChicSewEasy maternity along with home decor.
Let's get started with the Feeder Frock Nursing Cover Sewing Kits with Design Pattern Download…
The Alicia Cotton Luxe Design is a top seller, and has been featured on Babble.com. You can now make this design the easy way, with a ready for sewing, or if you feel confident, just the PDF Pattern Download. Either way, you get the ability to make this design again with your own custom fabric choice including the ribbon trim choice.
The cream and black just has that great look, yet you could make it in black with cream or white ribbon, or gray or pink with cream or white ribbon.  You could also do a print with any color ribbon. This design will look great in any custom color choice you want. The design is a classic that will carry you through all breastfeeding seasons, and you'll always be that mom nursing in style.
This Cotton Luxe Feeder Frock Features Two Long Layered Ruffles Cascading from the Empire Line, Edged with Black Grosgrain Ribbon Trim. The Sides of the Front Panel are Gathered for a Ruffled Effect.
The fabric we provide in your sewing kit design pattern is a blouse weight muslin cream cotton that our customers really love. Because you have the two layered ruffles on top, you can go with a light weight cotton, and it is likely what you want to ease heat and sweating.
If you're wondering about plus size patterns for your Feeder Frock, we've made this easy too. We created a supplement Plus Size PDF Pattern Tutorial for all the Feeder Frock styles, so that you just select your style, and add the Pattern Tutorial to adjust your style to the exact plus size you need. It even includes plus sizing the back cover pattern, so that all plus size pattern needs are covered with your one supplement.
The Back Cover gives you that mobile ability, yet you don't have to use it, when you don't need it. You just remove the Velcro loop at your neck strap, and use your FRONT cover only. For the plus size design and pattern, the back cover can be adjusted for all plus sizes off of this single pattern download supplement to any Feeder Frock style.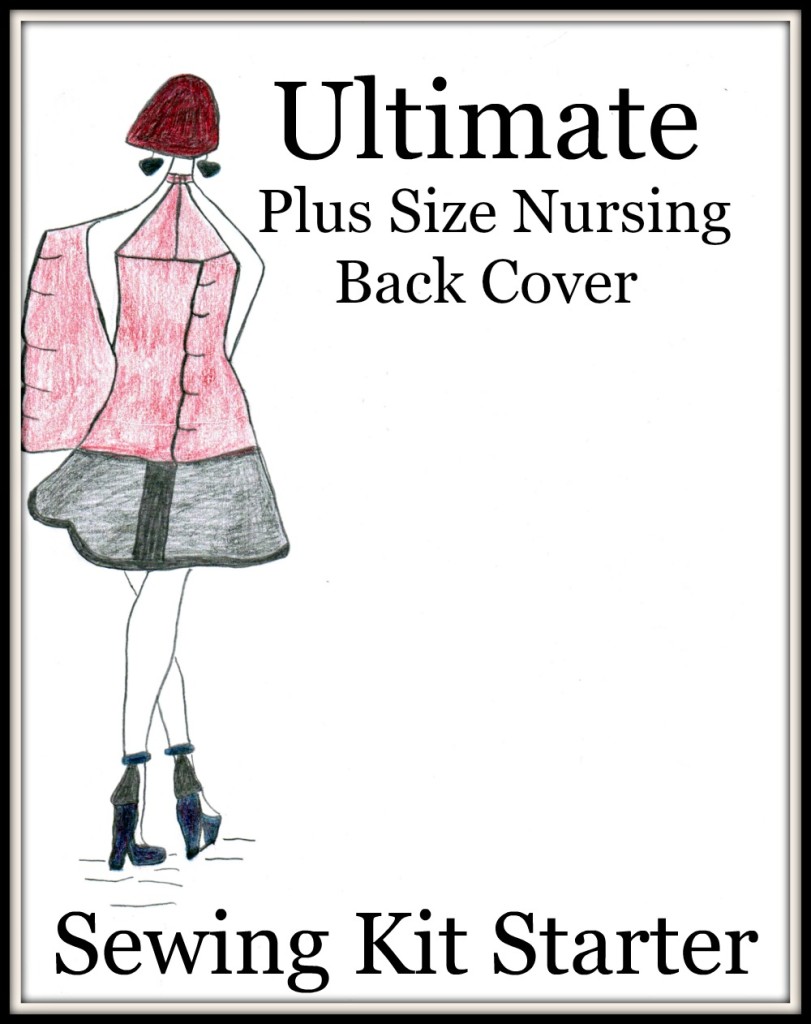 The other easy part of your design pattern project at home, either using just the PDF pattern tutorial or getting a sewing kit starter, is getting the memory wire for your Feeder Frock nursing cover ready to go. No store hassle!
This memory wire is a big reason why our covers are the best. We did a lot of research online before inventing the Feeder Frock, and the typical viewing neckline was something falling behind on the Mom feedback scale for nursing covers on the market.
Our design fixes all those problems of a flimsy boning hoop that flops and falls, and it is very specific and engineered to fit with the design patterns of LaDy LaDuke's Feeder Frocks.
It comes ready made, and either shipped to you separately when you add it to your PDF tutorial download cart, or packaged with your design pattern sewing kit starter.
Make your Design Pattern Sewing Project Complete with Breastfeeding Memory Wire.
*The Viewing Neckline is One of a Kind–Bending and Shaping as You Need. If You Feel Exposed…Flatten It. If You Need to View Your Baby over One Breast…Shape It. Our Neckline Holds the Memory of Whatever Shape You Want!
Back to more Feeder Frock design patterns…
The Signature Pocket style design pattern was created for moms to hold all their baby items in the front deep pocket. It gives moms more function while breastfeeding to multi task, and store things needed by mom, baby, toddler, teenager, etc.
Your hands are full while breastfeeding, so the pocket fixes your juggling problems. And, this signature style has our signature layered ruffles we like to do for moms, because they are feminine and special, and look like you're wearing a very cute top.
*Feeder Frock Nursing Cover Couture: This Pattern LaDy's Signature Pocket Style Features Three Layered Ruffles Cascading from the Neckline. The Gathered Deep Pocket Extends from the Ruffles. The Sides of the Front Panel are Gathered for a Ruffled Effect. 
If you have more confidence in your sewing skills, you can get the PDF Pattern Download of our LaDy's Signature Pocket Style. And, we also have the easier version as a Sewing Kit.
The Kit comes in Gray blouse weight cotton fabric. You can escape the frustration of the fabric store, paper patterns, and trying to figure out your pattern pieces. We do the work for you, and package your Nursing Cover Sewing Kit in your matching, handy Carry Bag to store your new cover in your diaper bag. You pre-cut fabric pattern pieces are placed inside. You sew your nursing cover, then use your carry bag to store it!
If you don't think you need the pocket, yet like the ruffles, you can go with this pattern design instead. It's our LaDy's Signature Front Ruffle style. It came first, before the pocket style, and was the birth of our ruffled themes you find throughout our brand designs and patterns.
It also comes in a Starter Sewing Kit of course, and in gorgeous fuchsia. Don't underestimate how color and bright color can make you feel. Sometimes, wearing color is all you need to feel young, fresh and stylish!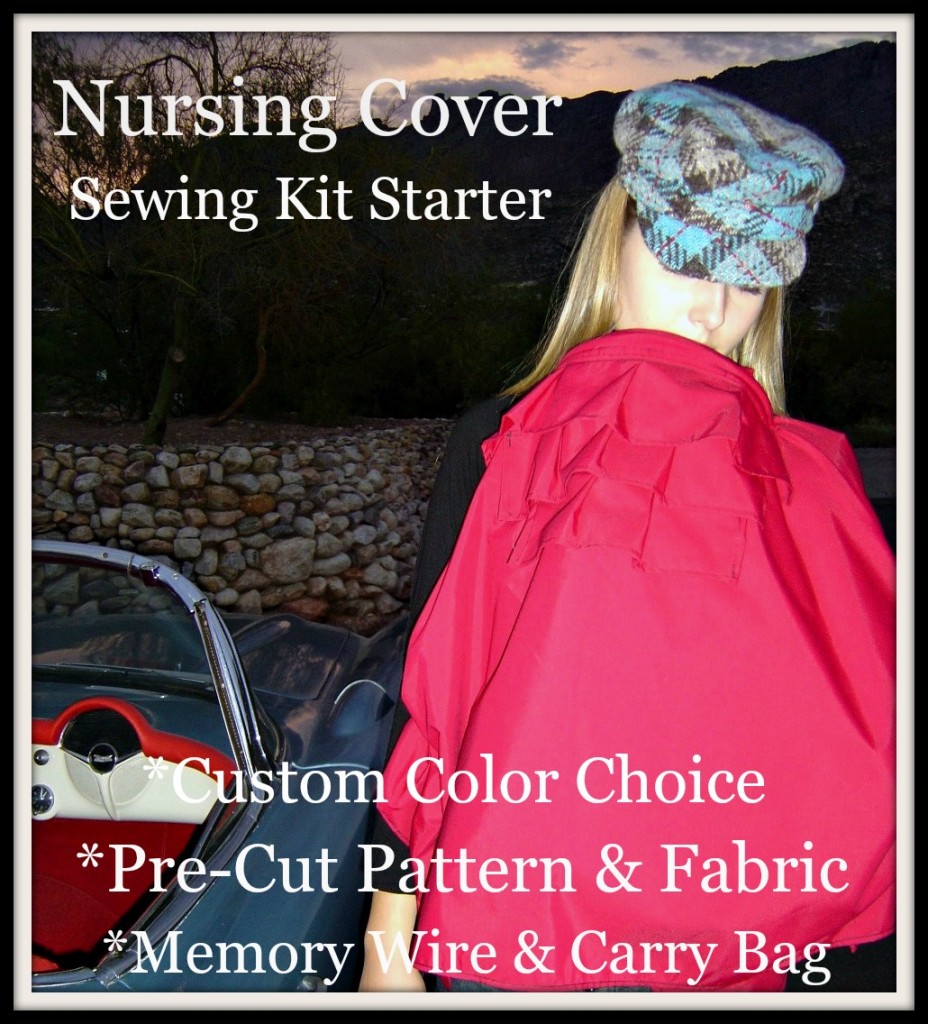 Patterns Kit-Designer Nursing Cover Sewing Kit-Pre-Cut Pattern & Fabric Starter-Your Sewing Project Made Easy!
*Frock Couture: This Frock Features Three Layered Ruffles Cascading from the Neckline. The Sides of the Front Panel are Gathered for a Ruffled Effect.

Sewing with a paper pattern can be confusing and complicated. Then you go to the fabric store, try to select the right fabric for your project, wait in line for cutting, and wait in line for paying. The whole thing can be overwhelming and even annoying.

We have a solution in a Sewing Kit Starter!
We had a customer named Alicia contact us on Etsy wanting neutral colors and ribbon contrast, so the Alicia collection of Feeder Frocks was born. I asked her if I could name it after her.
Contrast is always a winner in fashion, and there is something so feminine and pretty about ruffles and ribbon.
*Feeder Frock Nursing Cover Couture: This Pattern Alicia Front Ruffle Style Features Three Layered Ruffles Cascading from the Neckline. The Sides of the Front Panel are Gathered for a Ruffled Effect. Black Grosgrain Ribbon Trims the Ruffles and Sides.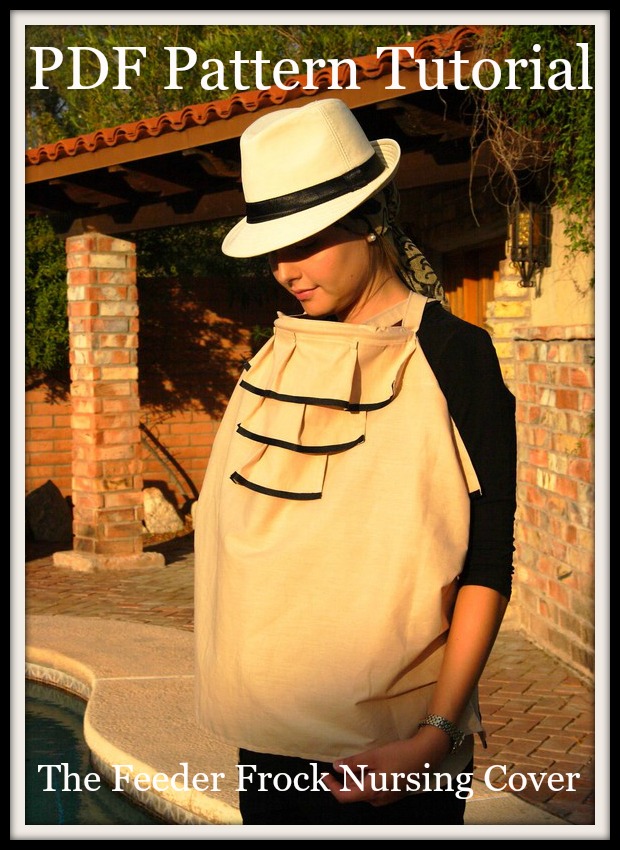 This design is called the Alicia Front Ruffle Style in a pattern download. You can also get exactly what you see above in a Kit with a matching carry bag.
Here are the contents of your Alicia Front Ruffle Feeder FRONT Frock Sewing Patterns Sewing Kit Starter You'll Find in Your Bag:
*KHAKI COTTON PRE-CUT FABRIC & PATTERN PIECES

*BLACK GROSGRAIN RIBBON

*MEMORY WIRE

*MATCHING CARRY BAG

*PDF PATTERN TUTORIAL
And we have more design patterns and PDF pattern downloads coming! Please browse through our Home Store to find more, as we continue to help you navigate from our Pattern page.
For more custom options in your Design Pattern Sewing Kits, visit our Etsy Shop, where we do made to order in many color options.
Here is more design and pattern project inspiration. Fashion from the runway is what gets us going, and gives us ideas to design…
  Courtney & Betina~LaDy LaDuke