Description
Add Your Breastfeeding Memory Wire to Go with Any Designer Feeder FRONT Frock Nursing Cover Pattern Tutorial.

Make your Sewing Project Complete with Breastfeeding Memory Wire.
*The Viewing Neckline is One of a Kind–Bending and Shaping as You Need. If You Feel Exposed…Flatten It. If You Need to View Your Baby over One Breast…Shape It. Our Neckline Holds the Memory of Whatever Shape You Want!
Select Plus Size for larger breasts or size 18 & Up.
You can add this PDF Pattern Download Tutorial to your cart, and make any Feeder FRONT Frock style or matching Back Cover the Plus Size you need for your designer sewing project at home.
GET YOUR MEMORY WIRE INCLUDED IN A NURSING COVER SEWING KIT STARTER!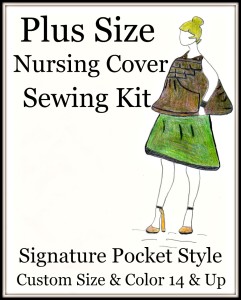 Escape the frustration of the fabric store, paper patterns, and trying to figure out your pattern pieces. We do the work for you, and package your Nursing Cover Sewing Kit in your matching, handy Carry Bag to store your new cover in your diaper bag. COMING SOON. You can get all plus size starter kits at our Etsy Shop.
Breastfeeding Memory Wire for Any Designer Feeder Frock Nursing Cover PDF Pattern Tutorial… Just $5 Free Shipping.