Description
Make Your Business Ideas a Reality with an Etsy Shop!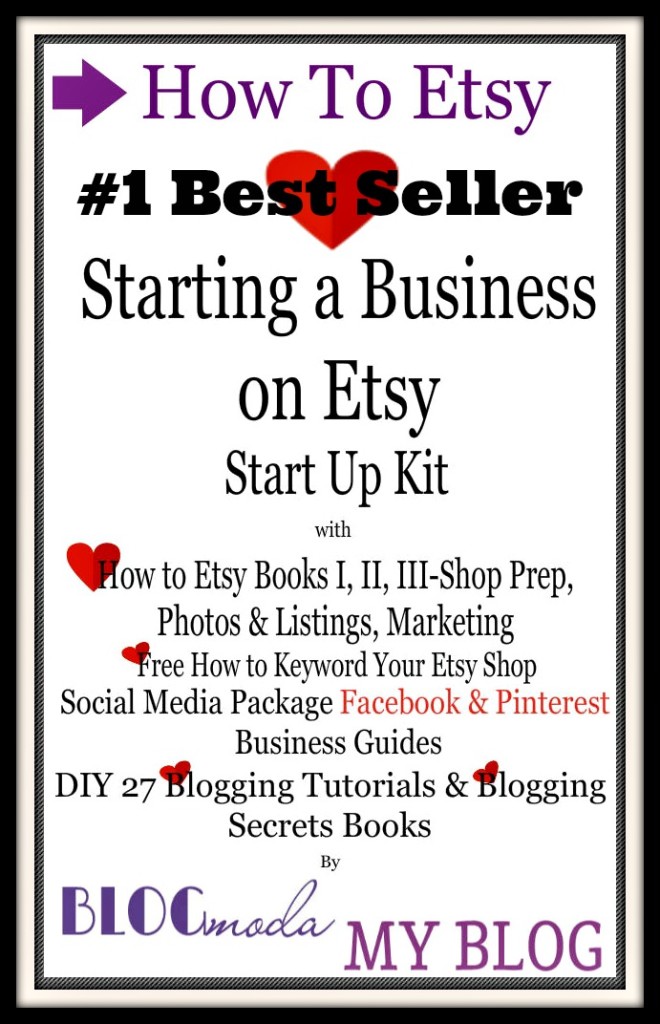 I love Etsy, and love doing business there, and I want you to do the same!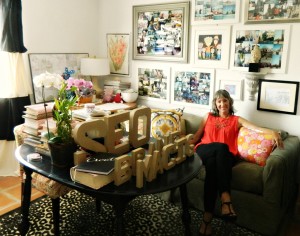 It's a great place to start with your business ideas, because they have the built in traffic, they are established and still #1 in their venue. Their business model centers on your success, and they do their best to help you do well with constant improvements, tools and seller features. They listen to their community of sellers, because they are integral to the heart of their business success.
With years of experience selling there, and now with two Etsy Shops, I've built up a Business & Blogging Club, a number of Book Series on How to Etsy, How to Blog, How to Social Media and more, and I'm packaging the perfect Start Up Kit from all this information for your Etsy Shop opening, Business Brand, as well as all the things you need to be doing to make your Etsy Shop and Etsy Business successful.
Etsy Business Ideas-Your Starting a Business on Etsy Complete Start Up Kit Has You Covered…
SPECIAL PRICE OFFER TO START YOUR SHOP IN 2015!
I want you to start off on the right foot, and ahead of the game, so this Etsy Business Ideas Kit is designed to get to the heart of the important things.
Here's what you get in your Etsy Starting a Business Complete Start Up Kit…
*HOW TO ETSY BOOKS I, II & III SERIES:
This Book Series is a BEST SELLER ON AMAZON with two at #1!
-Book I: Shop Preparation with Bonus Keyword Research Guide Included-

BEST SELLER
-Book II: Photos & Listings with Bonus Insider Etsy Seller Veteran Tips-

#1 BEST SELLER
-Book III: Marketing Your Etsy Shop with Bonus About Your Biz Client Form & Exercise-

#1 BEST SELLER
*BONUS DIY GOOGLE KEYWORD RESEARCH for Your Etsy Shop with Google Keyword Planner Guide:
-Learn How To Keyword Your Etsy Shop with a Bonus Guide on Using the New Google Keyword Planner
-Start with 9 steps from converting your own ideas into keywords, to using the keyword planner effectively, and from research and discovery, to implementing your keywords into your Etsy Shop announcements, shop sections, about page, product descriptions, shop policies and public profile, and everywhere in your Etsy business.
*Business Ideas SOCIAL MEDIA PACKAGE:
-Get Your Facebook On Book
-Pinterest for Business with Bonus Checklist
*HOW TO BLOG FOR YOUR ETSY BUSINESS PACKAGE:
-DIY I Love Blogging Levels I, II, III EBook-27 DIY Blogging Tutorials-Plus 11 Ways to Make Money Blogging
-Blogging Secrets Book Series-Book 1: Secret Truth About Making Money
The only thing you're missing for your Etsy Business is your actual blog content and personal Etsy business consultation help, and there is a 25% OFF Coupon Code included in your Start Up Kit for ready to go blog content, as well as a 20% OFF Coupon for enlisting any of my Business Consultation Services when you get going, and think you may need more help.
Get your Etsy Business ideas moving with your Starting a Business on Etsy Start Up Kit, and get tons of information you need right from the start. Just $29!