Description
Designer Nursing Top White SWITCHBACK POCKET FEEDER front FROCK…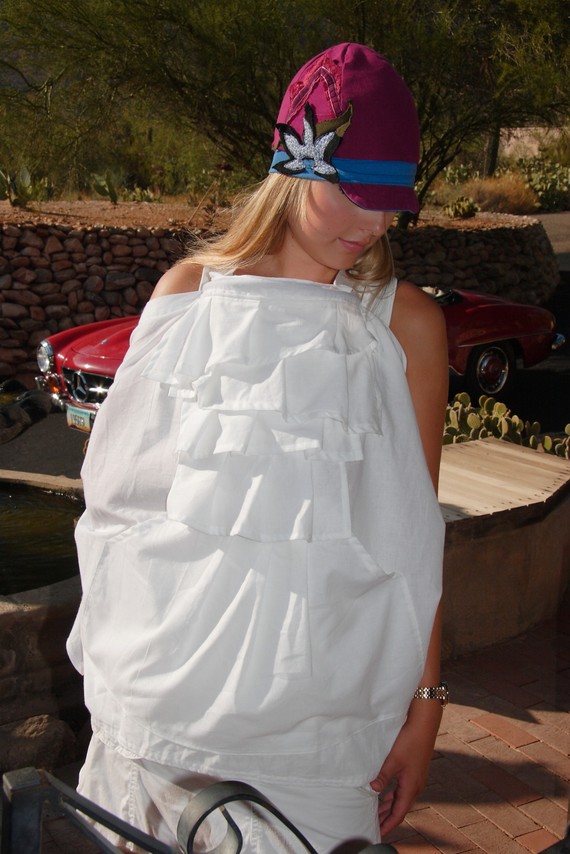 I love the fact that this feeder frock solved the problems I was having with my current nursing cover. This is very secure around the neck, and does not flop around on you. I feel very comfortable to nurse in public now. I no longer have to constantly fight to stay covered or to keep the fabric off my baby's face. I highly recommend this company. The quality is outstanding, and the product shipped out quickly!
Do you sometimes sit in a booth to breastfeed? Do you sometimes stand near the restroom?
This is your Ultimate Nursing Cover solution, because it gives you the most function and style possible. You can breastfeed sitting with just your FRONT cover, you can breastfeed standing while chasing your kids and stay covered. Each breastfeeding situation is different, and your Ultimate cover has you covered.
Why choose our Feeder Frock Designer Nursing Top? It is…
ULTIMATE STYLE
BETTER
WIDER
DESIGNER ORIGINAL
MORE STYLISH
*MORE STYLISH: You Get Modern, Designer High Fashion and Many Styles & Color Choices.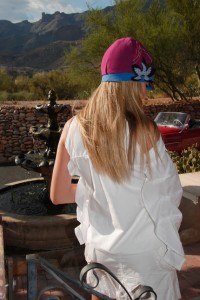 *ULTIMATE STYLE Attaches with Velcro on the Neckstrap. You Can Attach or Remove the Back Panel as Needed. ULTIMATE STYLE is FRONT Coverage when you want it, FULL coverage when you need it ALL IN ONE!
*BETTER: Because You Can Make it ULTIMATE STYLE with a BACK COVER.
*BETTER: Lightweight & Breathable-Blouse Weight Cotton Fabrics that Moms and Babies Want, Plus the Best Strong & Sturdy Memory Wire-Viewing or Privacy Neckline on the Market. Seams are Double Stitched and Re-enforced for Quality.
*WIDER: The Ultimate Feeder Frock Front Cover measures approximately 28″ long from the shoulder and 42″ wide…Much Wider than the Usual Nursing Cover.
*DESIGNER ORIGINAL: Invented and Designed By Moms Just Like You. We are Handmade in the USA with Our Own Original Designs. All of Our Feeder Frocks are Designer Hand Cut, Hand Sewn, Individually Tested and Hand Packaged.
DESIGNER NURSING TOP White SWITCHBACK POCKET FEEDER Front FROCK PRODUCT FEATURES:
*Frock Couture: This Frock Features Four Angled Ruffles Cascading and Switchbacking to the Gathered Front Deep Pocket. The Sides of the Front Panel are Finished and Gathered for a Ruffled Effect.
COTTON FABRIC COLORS: White (Shown) 
READY TO SHIP!
*PLEASE ADD THE BACK COVER SEPARATELY FOR ULTIMATE STYLE.
*See our Welcome Page for your transaction details and process. We like to take care of you!
HOW THE FEEDER FROCK DESIGNER NURSING TOP WORKS:
*The Feeder Frock Front Cover Simply Goes Over Your Head with the Neck Strap to Hang and Cover Your Front.
*The Ultimate Back Panel of The Feeder Frock Falls Down Your Back from Velcro at the Neck Strap, and Wraps Around Your Sides to Your Front. It Then Ties at Your Waist or Middle. The Ties Secure The Feeder Frock to Hold onto Your Body, So You Can Move Freely and Enjoy Full Coverage at the Same Time.
*The Two Separate Panels Provide Easy Air Flow Under the Front Cover, and Allow Moms to Move Their Arms In and Out Easily. You Can Now Ease the Heat and Sweating!
*The Viewing Neckline is One of a Kind–Bending and Shaping as You Need. If You Feel Exposed…Flatten It. If You Need to View Your Baby over One Breast…Shape It. Our Neckline Holds the Memory of Whatever Shape You Want!
Designer Nursing Top White Switchback Pocket Feeder Frock by LaDy LaDuke with Free Shipping at $49.