Description
Your Simple Mom Books Package is your guide to living simply as a Mommy through your pregnancy and after birth with parenting. This package is loaded with ideas and tips from creating your birth plan all the way through potty training, dealing with the terrible twos and beyond.
You'll also get family project ideas, ways to get your child involved in the community, and help with child care or homeschooling plans. You, your birth, your family and your parenting choices are yours, and having knowledge and information only help you make those personal choices better.
It's all about Living a Simple Life as Mom to Be & Parent.
 
Here's what you'll find for Living a Simple Life in your The Simple Mom: Pregnancy Book…
-The Benefits of Having a Birth Plan
-Birth Education Classes
-How About Your Finances
-Are Prenatal Vitamins Necessary?
-Midlife Pregnancy
-How to Prepare for Twins
-Smart Ways to Beat Tiredness
-Safe Exercises for a Healthy Pregnancy
-Preparing for Childbirth with Yoga & Breathing Exercises
-Yoga Before Labor
-Vegetarian Pregnancy
-How to Tell Your Kids You're Pregnant
-Preparing for Natural Childbirth
-Is Home Birth Right for You?
-Pros & Cons of Birthing Centers
-Birthing Alternatives Before Intervention
-Do I Need a Doula?
-Have You Heard of Hypnosis for Childbirth?
-How Does Water Birth Work?
Living a Simple Life by Parenting Simply…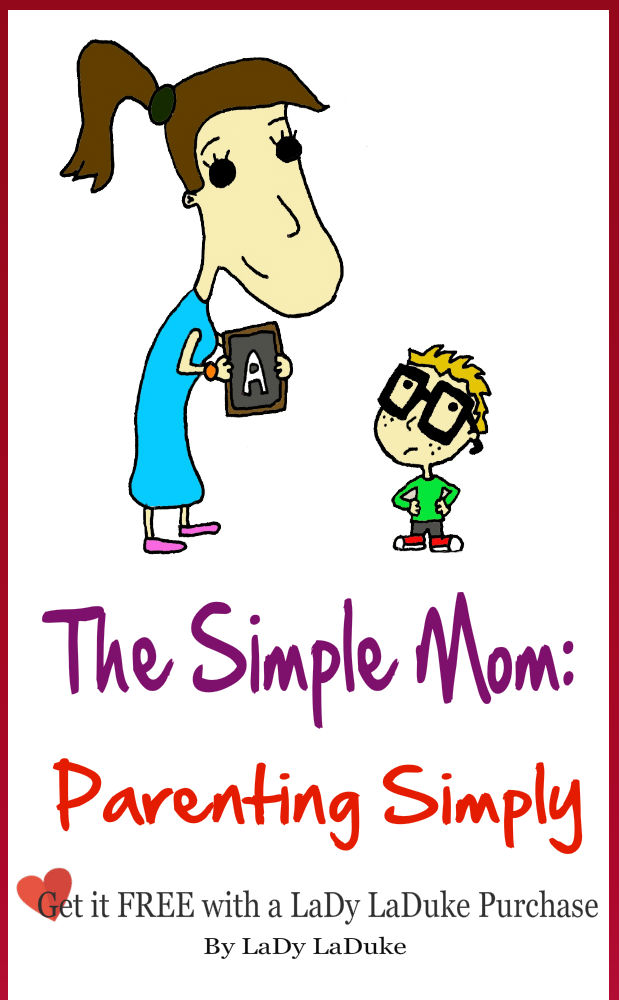 Here's what you'll find in your Parenting Simply Book…
Living a Simple Life Family Projects
-Cooking & Baking as Families 
-Families Who Garden Together Eat Together
-Potluck Feast Ideas
-The Family's Den – A Space for Everyone
-Getting Everyone's Input on Redecorating the Family Room
-Reducing Clutter as a Team
-Landscaping with the Whole Family
-Get everyone Involved in Outdoor Clean-Up 
-Setting Up a Chore Chart
-Hosting a Family Reunion

Living a Simple Life Toddler Management
-Beyond Survival: How to Enjoy the Toddler Years
-Toddler-Proof Your Home
-Handle Toddler Temper Tantrums
-Communicating with Your Toddler 
-How Toddlers Communicate – Understanding Their Language
-Big Feelings and How to Handle Them – Advice for Parents of Toddlers
-Big Feelings: How to Help Your Toddler Handle Emotions
-Handle Separation Anxiety
-Help Your Toddler Deal with Fear 
Living a Simple Life-Potty Training Made Easy
-Potty Training Do's and Don'ts
-Potty Training Made Easy-Strategies That Really Work

Tips on Keeping the Twos from Being Terrible
Living a Simple Life in Child Care
-Child Care: What It Involves and What It Costs
-Child Care: Costs and Options
-How to Choose the Right Daycare for Your Family's Needs
-How to Choose a Child Care Provider: A Checklist
-How to Prepare Your Children (and Yourself) for Daycare
-Communication with Your Child Care Provider: What to Discuss Ahead of Time
-In-Home versus Daycare Center: Pros and Cons
-Is My Child Old Enough to Stay Home Alone?
-Preparing Your Children to Stay Home Alone – Top Tips
-Should You Hire a Teenager to Care for Your Children? Pros and Cons
Living a Simple Life in Alternative Education
-Answers to Top Questions about Homeschooling
-Homeschool Philosophies  – Which One Fits You and Your Children?
-Homeschooling and Unschooling – What's the Difference?
-Benefits of Homeschooling 
-Am I Qualified to Homeschool My Children?
-Home Education Resources – a Brief Overview
-How to Plan Your Own Home Schooling Curriculum
-Is Homeschooling Expensive?
-Covering the Legal Bases – What You Need to Know About Homeschool Laws
-Socialization and the Homeschooled Child

Consistency in Parenting
Tips for Homework Power Struggles
Getting Kids Excited About Healthful Eating
Tips for Outsmarting Picky Eaters
How to Help Kids Identify Emotions
How to Get Kids Proactive in Your Community
Over-Parenting
Entitlement Proofing Your Kids
Respect Works Both Ways
The Role of Positive Reinforcement
Get Living a Simple Life Simple Mom Book Package for Just $11.99, or get your individual book choice FREE with any LaDy LaDuke purchase.