If you are shopping Top Nursing Covers, we'd like to introduce you to The Ultimate Feeder Frock: Our Nursing Covers Evolution for you and your baby…
*Scroll Down On How To Use Your Ultimate Feeder Frock*
This is where it all started in October of 2008…Our back covers for nursing and the idea of being able to move while breastfeeding in public were the impetus for why we are here, and now our Feeder Frock baby nursing covers have evolved into ULTIMATE versions!
You'd be surprised how far the Feeder Frock covers design has come from its inception, and how many times I have changed it to make it better, fit more body types, and function beyond compare to anything else on the market.  The more customers and Moms I talk to, the more I learn on what they need, and that has allowed this nursing covers evolution to occur.
Moms actually need many types of covers to handle many situations that are thrown at them; like you might need to sit to breastfeed your baby, but then have to dart up to chase after your toddler, or you might be wearing a winter coat, and your baby may or may not like the darkness under the cover, and may or may not pull off the cover, etc.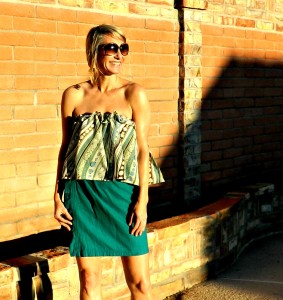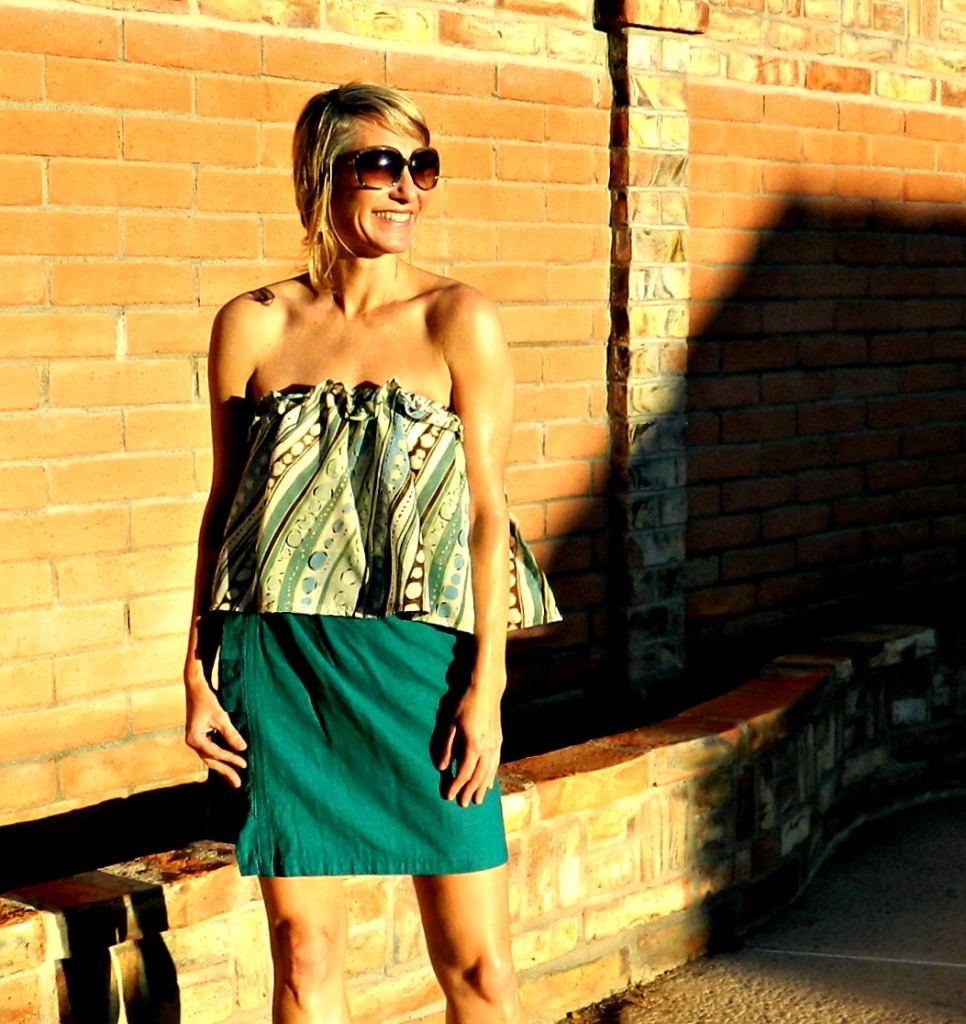 It's pretty unpredictable what you'll have to handle while breastfeeding, and every baby is different.  So, of course you need the most versatility and function possible, and it's why we have such a variety of styles of nursing covers that fall into the two main categories of

nursing under your covers,

 which you'll read about below, or nursing outside of your covers, like the Nouveau Nursing Cover Ruffle Bubble Top pictured here.
Our Ultimate Feeder Frock nursing covers fall into the under the covers breastfeeding category, but now are like having
Ultimate Nursing Style is FRONT coverage when you want it, and FULL coverage when you need it all in one!
The back panel of your Ultimate Feeder Frock baby nursing covers simply attach with a Velcro around the neck strap of your FRONT covers, so that you can use or remove the back panels of coverage as needed.
I received my nursing cover yesterday. I love it already. It's beautiful and the fabric is light and breathable. I love the back cover and I'm sure I will use it all the time. Thank you for the superb costumer service and for making a nursing cover that fits all my needs! I must have gone to 20-30 websites looking for a cover and you sure have the best ones in my opinion. Thank you.~Andrea
If you've purchased a FRONT nursing cover only, and find that you'd now like the extra back cover for FULL coverage nursing, we can make just the back cover for you now.
*Your FRONT nursing covers are made wider than the usual nursing covers on the market with 42 inches in width compared to the typical 36 inches.
WIDER, HIGH FUNCTION & HIGH STYLE ULTIMATE Feeder Frocks give you the option of adding the back covers. You can get the FRONT covers alone, plus the back cover purchase, or wait until you know what you need for nursing, and come back for the back covers later.
The gathered deep pocket is perfect to hold your baby items, cell phone or car keys, and it comes in that classic Black & White Gingham Check everyone loves.
We're excited about this new, ULTIMATE Feeder Frock nursing covers evolution, and what it can do for all of you! Thanks as always for your support and precious feedback.  We wouldn't be here without you!
What are some reasons for buying Feeder Frock Nursing Covers?
*Tired of Struggling With Backside Exposure Lifting Up Your Shirt When Nursing In Public? *Do You Breastfeed While Chasing Your Kids or Pushing a Baby Stroller? *Do You Sometimes Need Full Coverage for Nursing & Sometimes Just Front Coverage? *Do You Need Viewing & Privacy with Your Baby? *We Have the Only Breastfeeding Covers With Custom, Memory Wire Viewing or Privacy Necklines! *Our Baby Nursing Covers Won't Compare in Style or Function & They Are 2 Nursing Covers in 1! *Now available in our Home Store in 7 nursing styles, 2 in 1 Ultimate Style & a variety of color choices!
The Sewing Kit Starters make sewing life easy. We know working with patterns can be tricky, so we do the work for you by pre-cutting the pattern and fabric. Then we package everything in a carry bag that you can use for many nursing and baby needs. 
The best part about our Sewing Kit Starters is that you can start your own Home Business with them. We have a special wholesale package with all the materials and costs done for you. You just sew and sell, and make money! You can even sell the carry bag separately for more profits!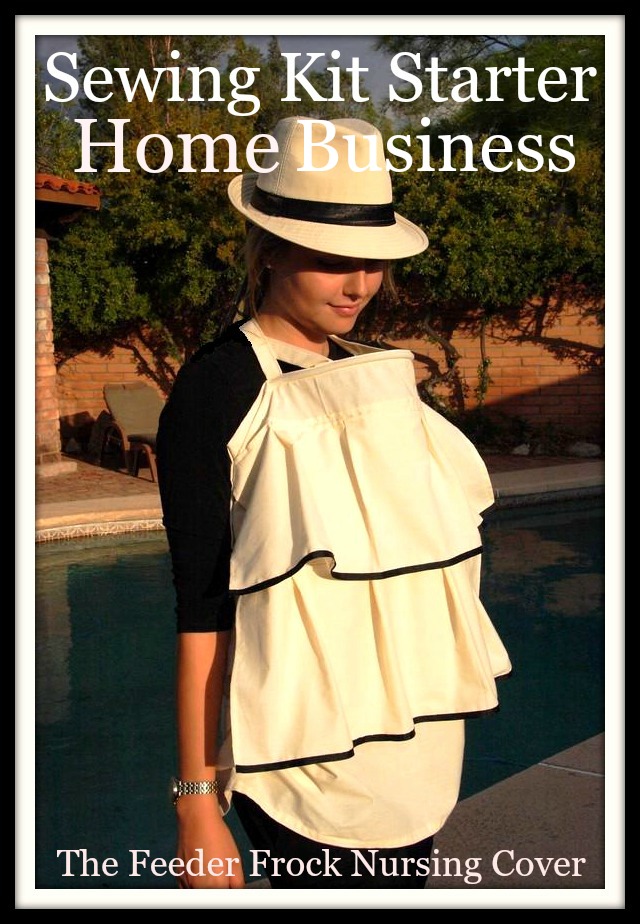 You can also get just the Feeder Frock Baby Nursing Cover PDF Tutorials. Here is your selection in our Home Store. More Coming:
This covers all Feeder Frock Nursing Cover Styles & the Back Cover.
This is pre-maid for you, and gets shipped separately.

Compare Baby Nursing Covers Styles…
The Couture features extra embellishments to the Original nursing design, like cascading ruffles, bow ties, ribbon and intricate detail additions…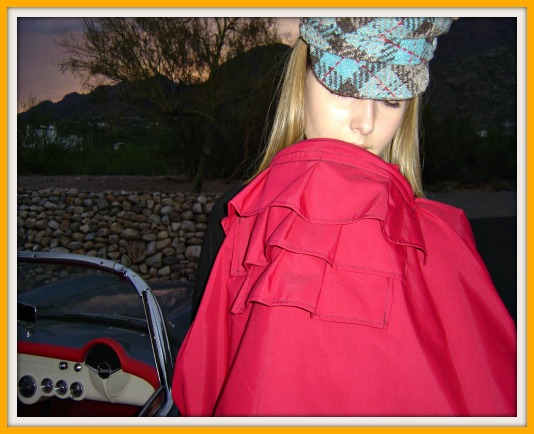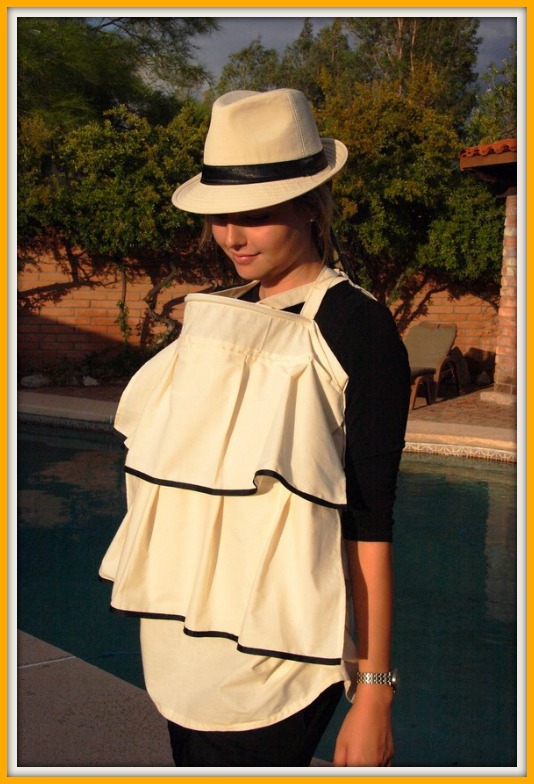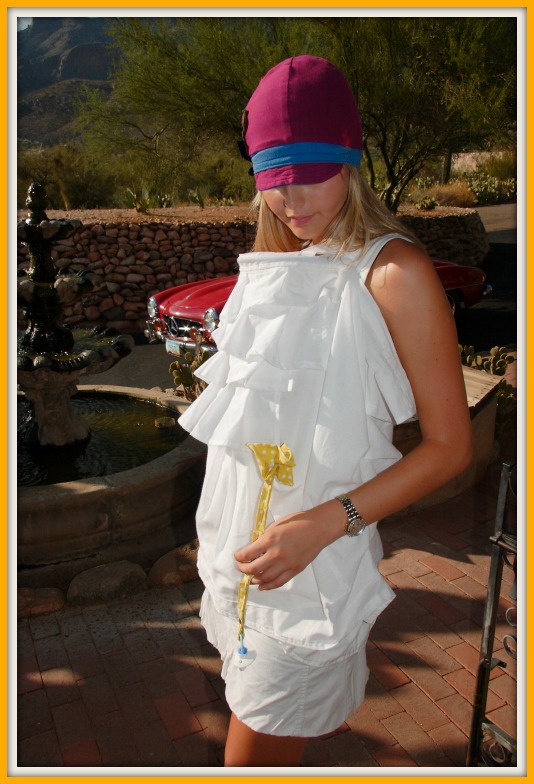 Our Pocket Feeder Frock Nursing Styles feature a deep gathered pocket on the front panels of your baby nursing covers to hold all of your burp cloths, wipes, cell phones, etc.!
One of our Designer Pocket nursing styles…The Femme Couture Ruffle Flap in Grey Cotton…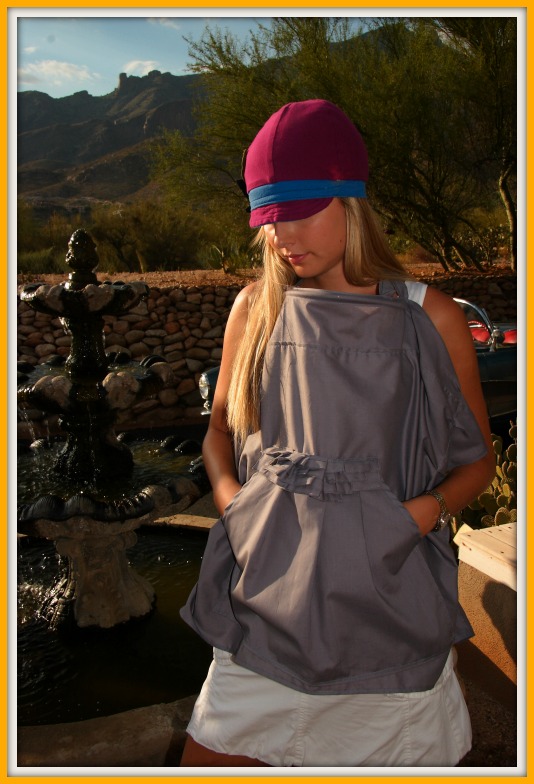 You'll want JUST THE FRONT COVERS of all of our Unique nursing styles, if you are a Mom who tends to sit or stand while nursing in public, with your back protected…
You Can Order from Any of Our Collections in Just the FRONT Style.
You get a variety of cotton color choices for your baby nursing covers…Fuchsia, Gray, White, Khaki, Cream & Black… 
Tips on Using The Ultimate Feeder Frock Baby Nursing Cover…
Attach the back cover at the center of your neck strap, and loop the Velcro around the strap. Place over your head, and allow the fabric to fall over your front and back.
Bring the fabric from behind, and wrap it around your body, then tie the ties at your center middle to keep your baby nursing cover snug for being mobile.
Your nursing baby cover is machine washable cold and line dry for best use. Some cottons shrink with any heat. Do not wash your memory wire.  Please remove it before washing. Insert it after washing.
Win Any of Our Covers! Get the Details on Our Subscribe page…
*See details below.
~Courtney & Betina, LaDy LaDuke