Modern Design Table Savvy…
For me, things for the table are a lot like shoes, and in the process of shopping for them, I could easily buy ones I never wear or even use, but just sit around here and there like delicious decor.
Or, they tuck away nicely in a closet or drawer, and you know they are ready to come out, when the moment is right.
If you are like I am, you probably have a collection of dishes, glasses, table cloths, napkins, placemats, etc., that you hold precious, and bring out to arrange just so for your guests, or just the two of you.
They can mix or match, and the process of creating new arrangements and combinations each time from everything you have is exciting!
There is just something about the table and the table setting we love as women, and as a designer I love to design.
Naturally, Table Savvy had to be a part of our LaDy LaDuke design collection…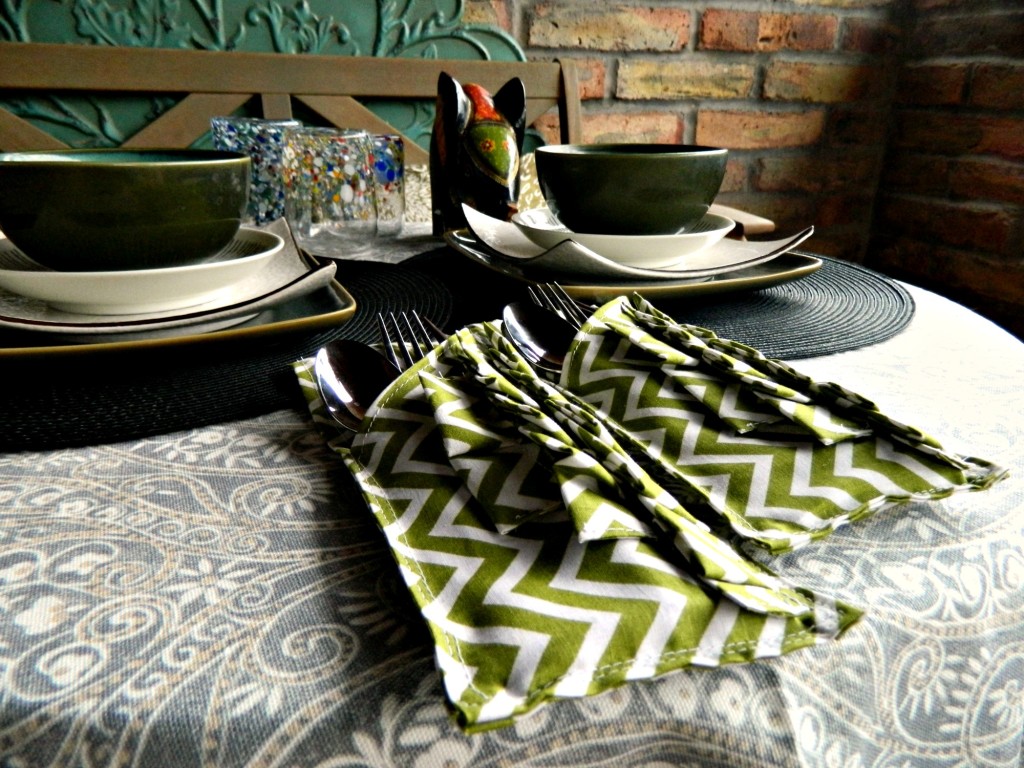 As a designer, and as a hostess at home, I like to have things special, but have things simple, and the table setting coming together, all in one chic pocket design looks great, and gives so much function.
You can put anything you need for your guests in this eye catching pocket design, like silverware, chopsticks, thank you note, gift, place holder…you name it.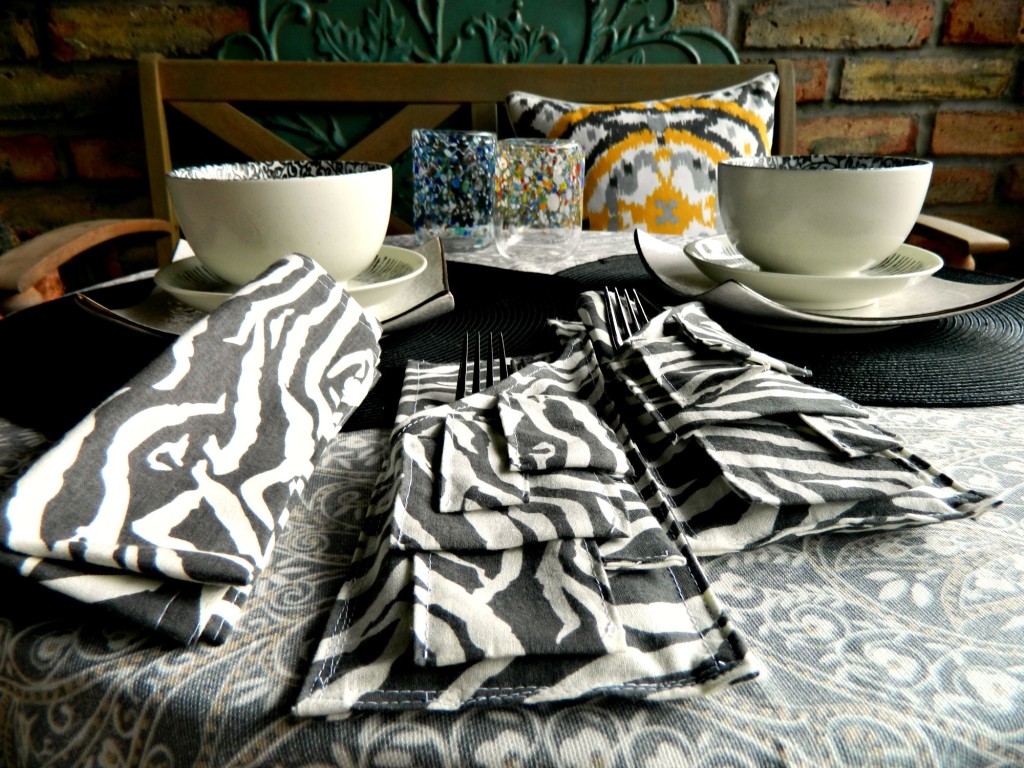 The Chevron Chic design comes in a gift set with matching green and blue hand blown glasses. There are just 4 of these special sets, so grab one!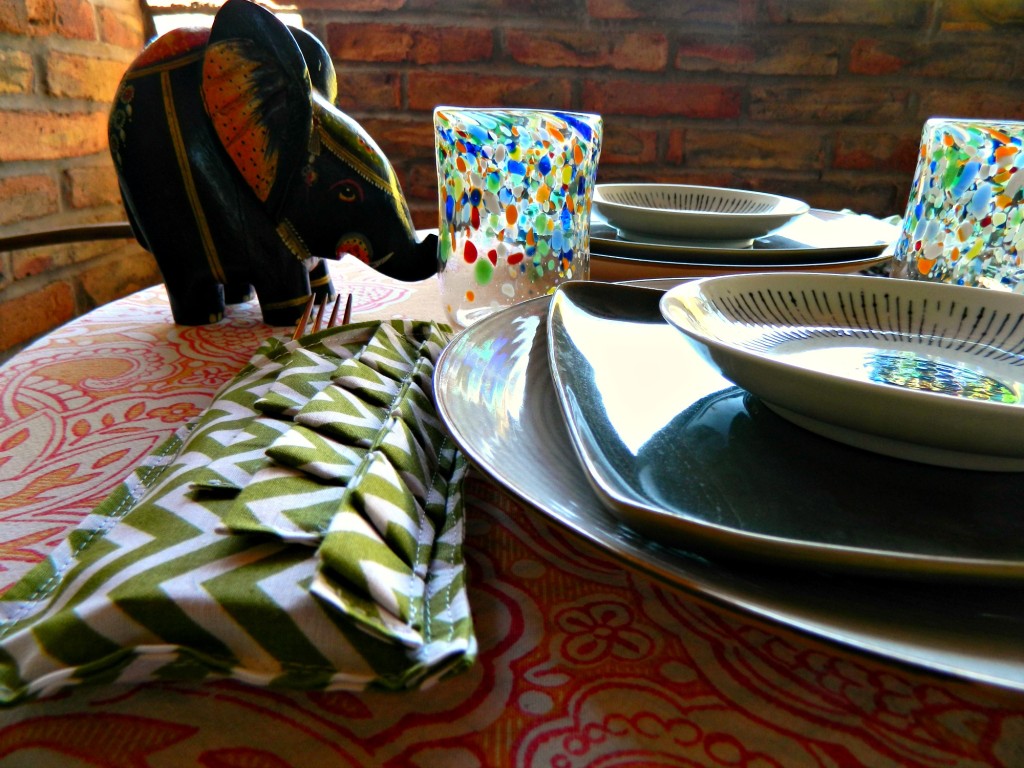 Each design is intended to blend into table decor you already have, but to pop and define your table setting process.
They are like the unexpected accessory to your outfit, great shoe or lamp in the room, and they should be a conversation piece. They should also be a design hit!
They come in sets of two, and with a matching designer napkin for each. You can get custom colors for each style in the Green Chevron, Charcoal Zebra, Khaki Tan or Black to go with everything. You can always increase your sets of two, to get six to ten if you need.
The other great part of this design process, is the fun you can have with events, celebrations, seasons or holidays.
Look for more Table Savvy designs that will meet the various times of year and table decor ideas you need, like these So In Love ones for a Wedding or Bridal Party in custom color choices, Valentine's–of course, or for your date night, princess party, etc…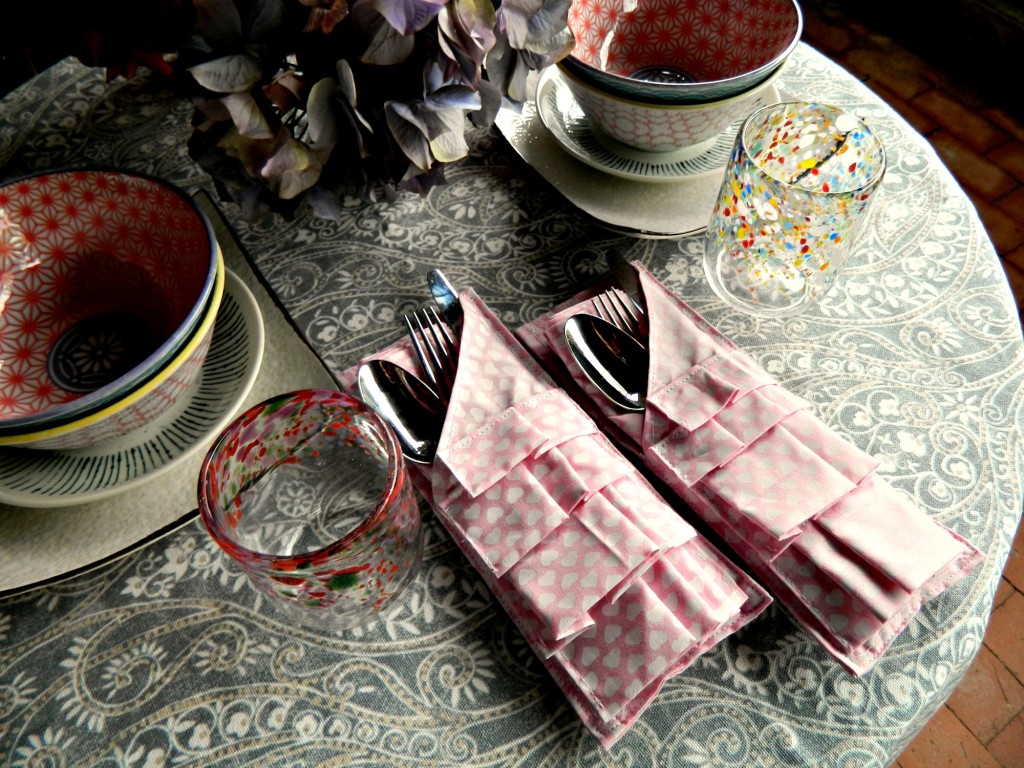 Finally, get the Fringe Couture style design in Khaki Tan or Black, offset by Floral and Retro print napkins to blend into any table setting ideas you have…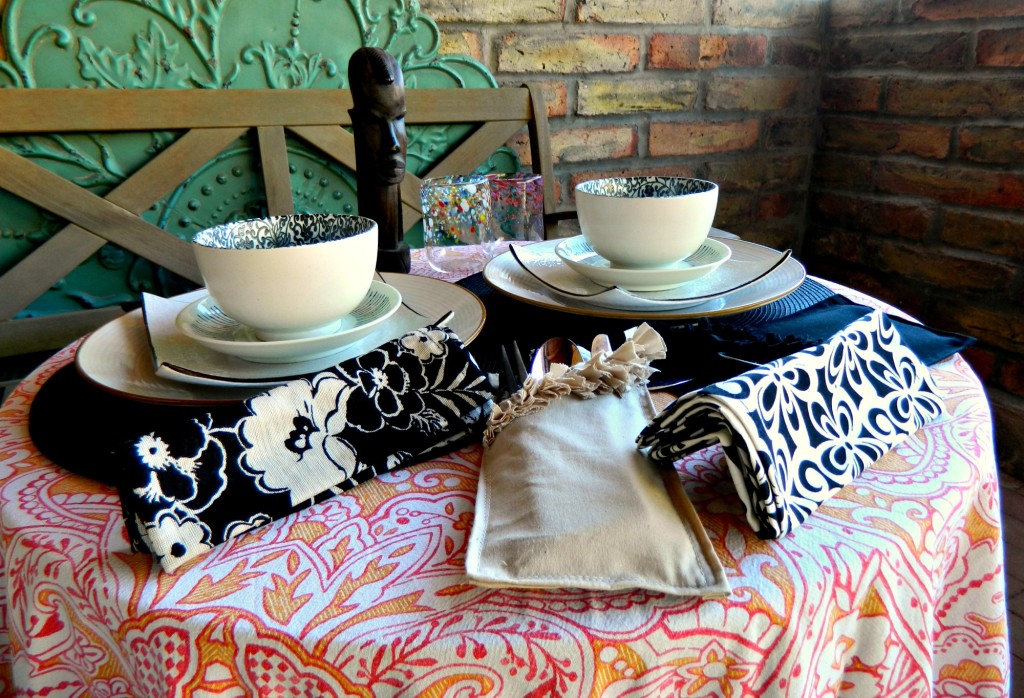 The home is where the heart is. Here are more modern design ideas for your warming pleasure.
If you noticed the glassware in the table settings, they are hand blown design glass sets by a fellow local artist and friend, Brick House Glass.
Each glass in its process of making is one of a kind, hand etched and signed by the Artist. This beautiful glass art is all you need in glassware to entertain, and serve any drink you'd like. I personally love them, and use them all the time.
If you want a special wedding gift, this is it!
If you like the idea of mix and match, so you never have to worry about a full matching set of glasses, select the 4 COLOR MIX. And if you like things matching, you can get a set of 4 in the SAME COLOR.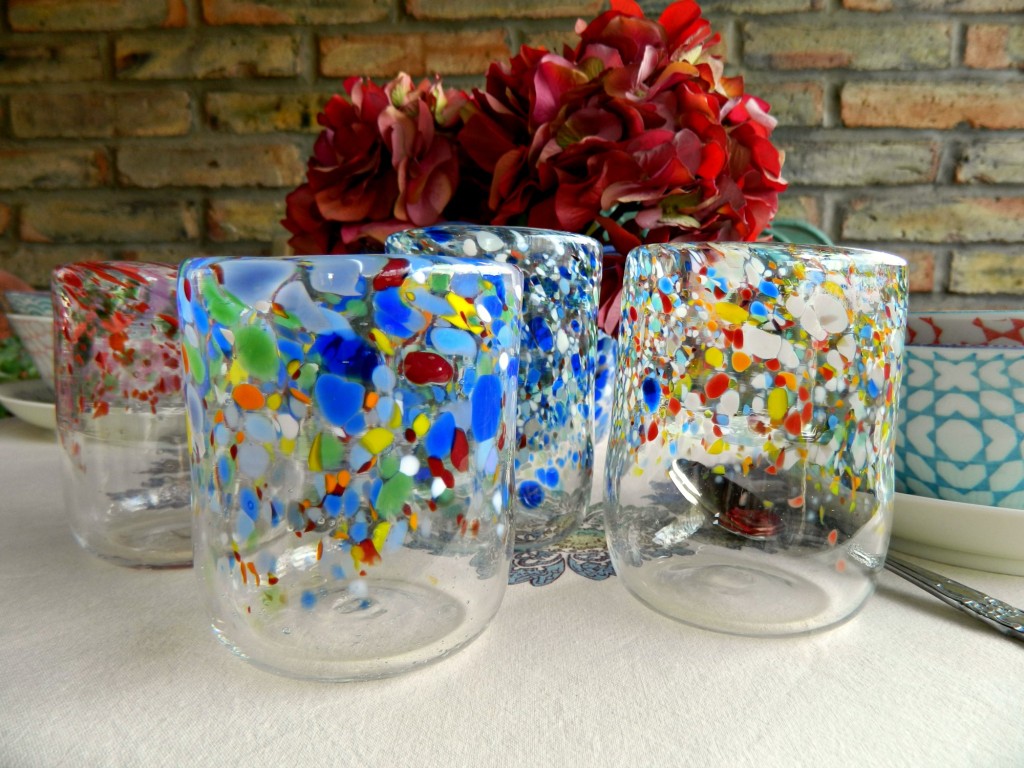 The imperfect, yet perfect hand blown design shapes rest in your hands, and form to your lips when drinking.
They'll go with just about any dish or table setting, and bring a fun burst of color to your meal or party. They're also more forgiving than stemware.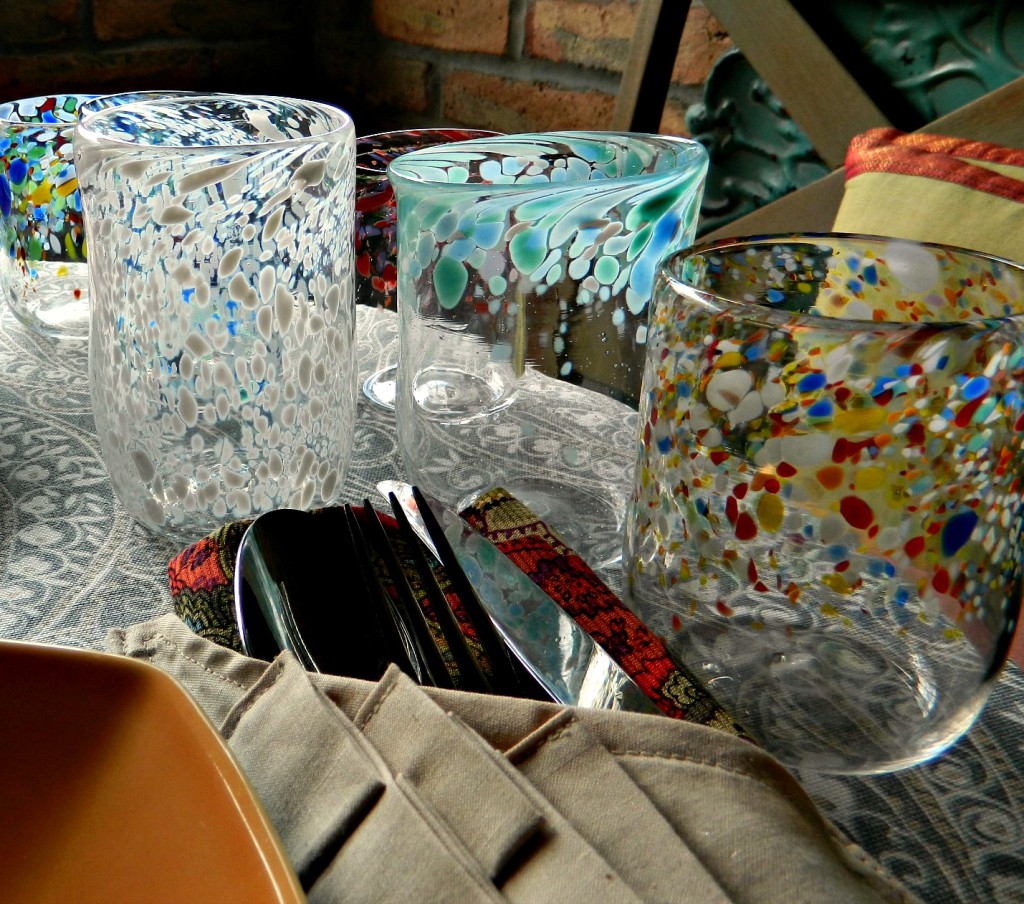 If you need glassware for your Holiday settings, these blue and white dinner glasses will do. They will also go with everything all year 'round. The white will go with any of your dishes, and the blue will blend with other colors, or set off white dishes.
They are also perfect for weddings, a gift for the couple or something blue for the bride. These dinner glasses are designed a bit taller at 5.5-6″ tall. They come in sets of 2, sets of 4, and sets of 6. You can always add to your cart for the number you need beyond the sets, or contact us for a custom listing.
Perfectly White for Weddings or Anytime Hand Blown Glass Design…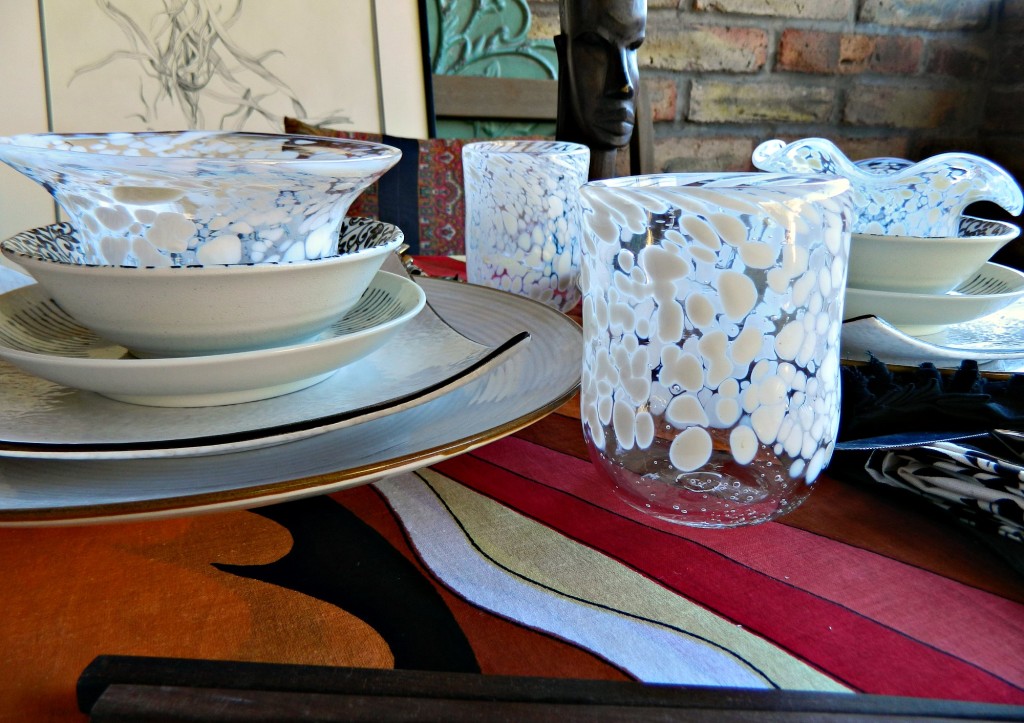 Perfectly white glass tumblers will of course look great on your wedding tables, yet they'll be perfect at home for any table setting too.
We also have perfectly white glass appetizer and salad bowls to go with your tumblers various dishes.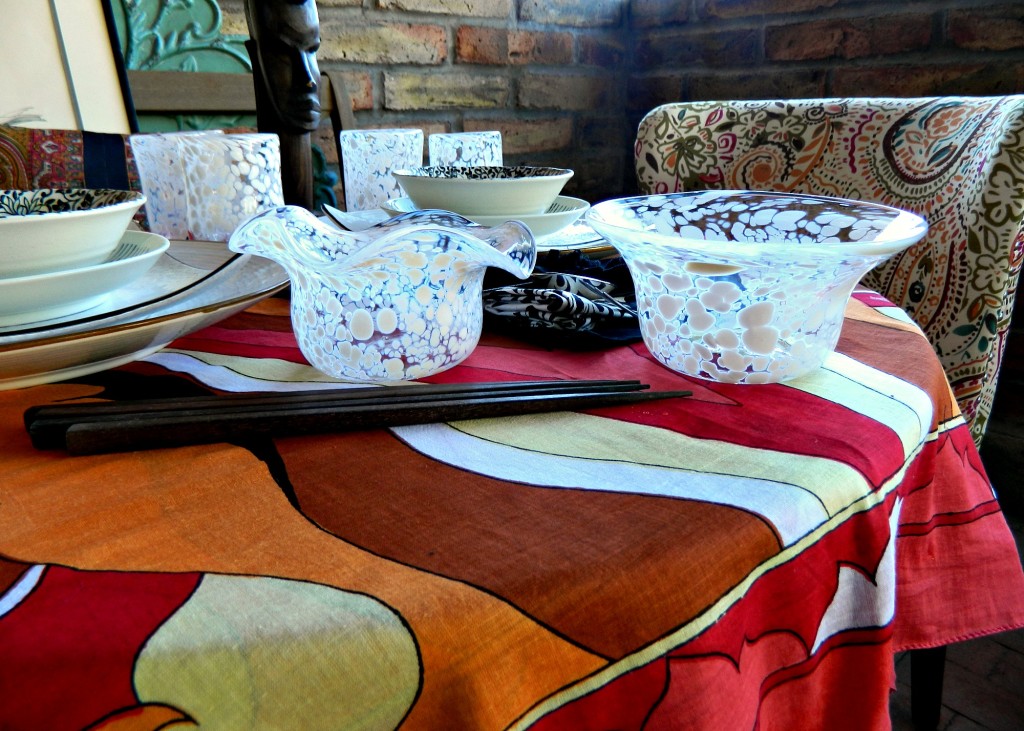 Perfectly Multi White for Weddings or Anytime Hand Blown Glass Design…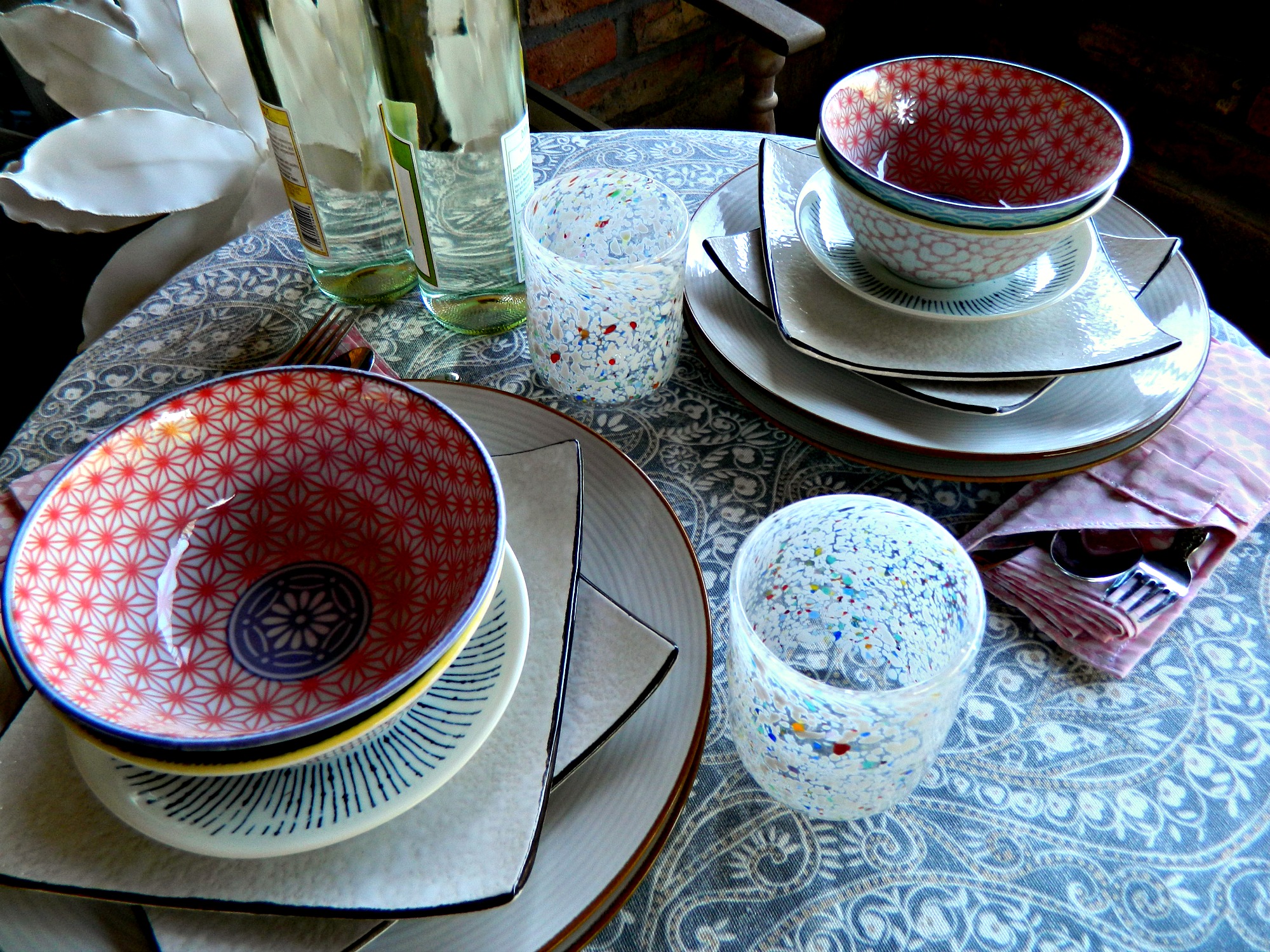 These tumblers or dinner glasses have a touch of color splashed through the white.
More Hand Blown Glass Design by Brick House Glass for Your Table…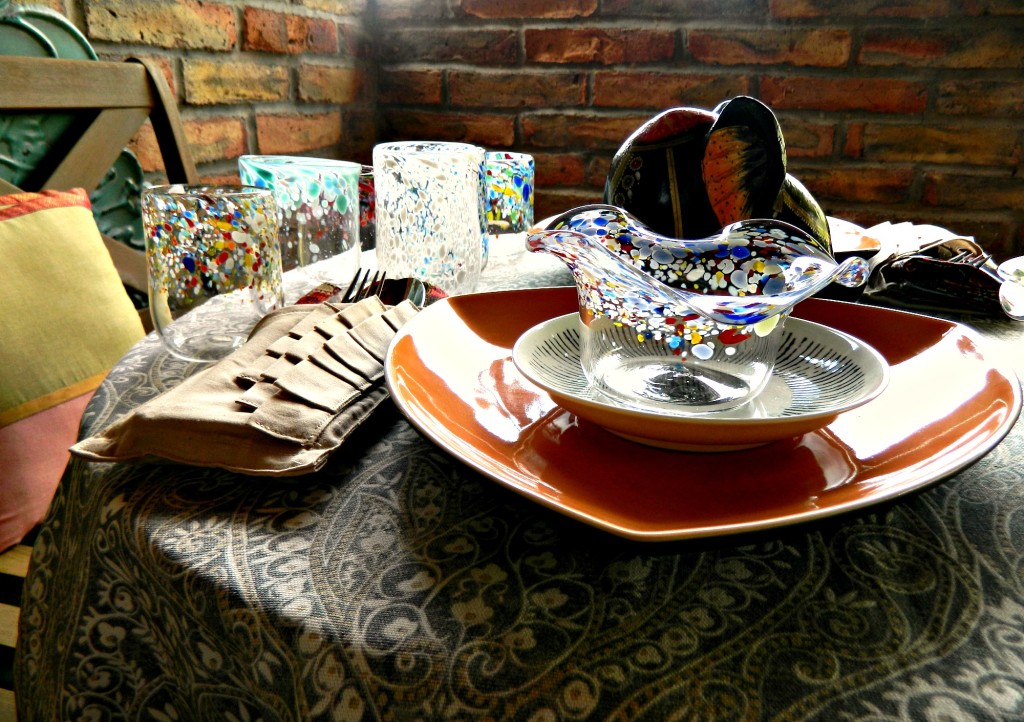 For a full designer setting on your table, you can get a set of 2 dinner glasses in any of the glass colors, 2 khaki cotton Table Savvy setting pockets with 2 matching napkins and 2 additional Fall/Holiday paisley napkins.
This Designer Ruffle Chic Style Setting Savvy is a great gift idea for newlyweds, bridal shower, birthday or any occasion dining when you just want to feel chic entertaining. The Khaki goes with everything, and the Paisley Print brings in all those great Fall and Holiday colors.
More Hand Blown Glass Design by Brick House Glass for Appetizers & Serving…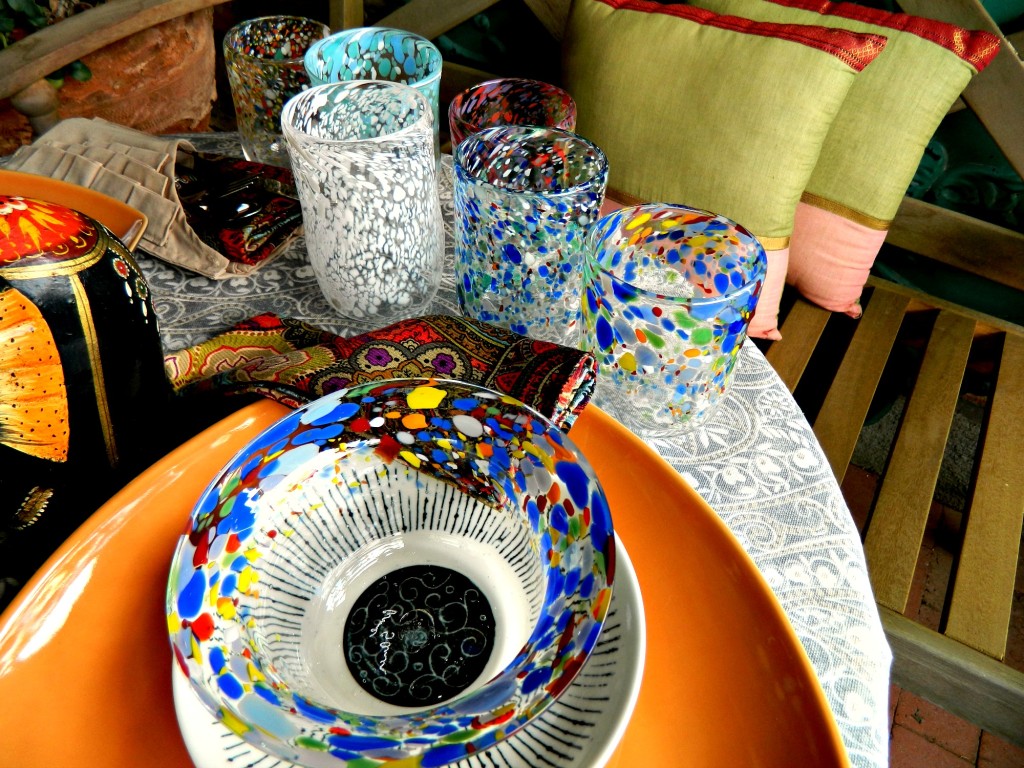 Hand Blown Glass Bowl-Hand Blown Glass Platter-Salad Bowl-Appetizer Dish-Serving Dish-Wedding Gift in Multi Colors…
Each Bowl is One of a Kind design, Hand Blown Glass by Brick House Glass.
This beautiful glass art design can be used as a salad or serving bowl, gift bowl, appetizer dish, or to hold any items on display.
It's a gorgeous piece of hand blown glass art, that you'll use in so many ways, and is a perfect gift.
DESIGNER BOWL SIZES:
Measures approximately 5-6″ wide brim to brim, 2.5-3″ tall and 3-4″ bowl cavity.
DESIGNER BOWL COLORS:
1) Cobalt Blue, Yellow, Orange, Red, Light Blue, Grey, White, Mint Green
2) Green, Grey, Cobalt Blue, White, Orange, Red, Yellow
You can get these multi function salad, appetizer, serving bowls in sets of 2, sets of 3, or designer bowls set of 4.

More Hand Blown Glass Design by Brick House Glass…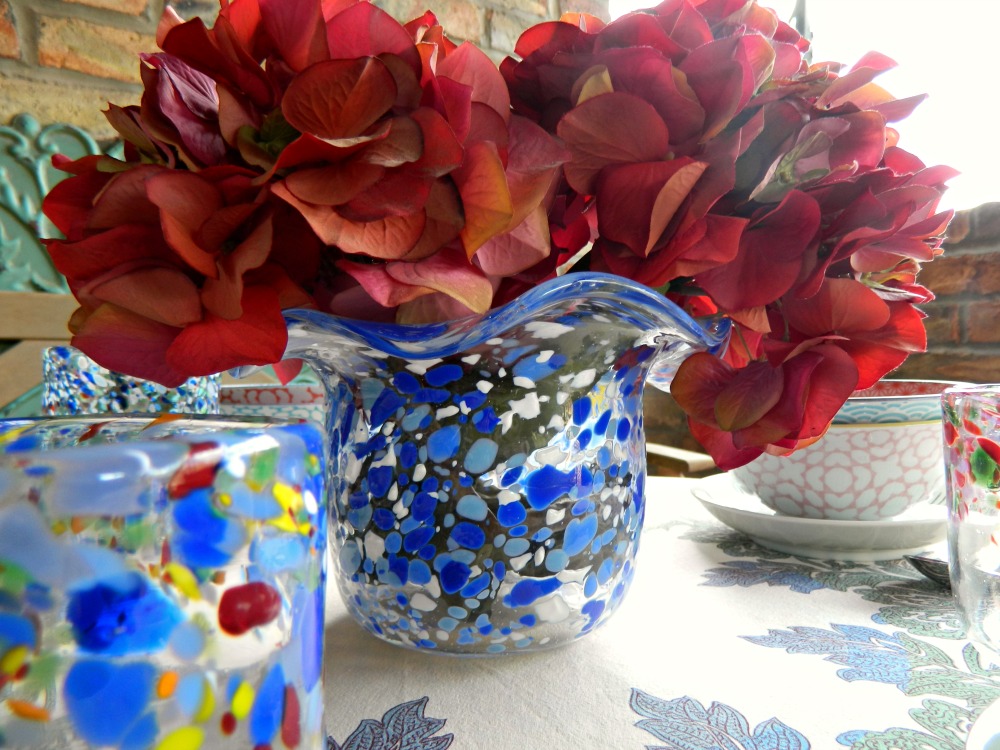 …This beautiful glass art design can be used as a vase, something blue for the bride, something pink, a salad or serving bowl, gift bowl, a wedding table centerpiece or something blue or pink for the nursery.
It's a gorgeous piece of hand blown glass art, that you'll use in so many ways, and is a perfect gift.
Hand Blown Vase Design Ideas for Weddings and More…
For more hand blown glass design ideas, this beautiful glass hanging vase art is all you need to set off your wedding decor! The colorful–one of a kind, hand blown shapes define the space, and add that special touch.
Plus, they make perfect gifts to use again at home. These can be wedding favors, wedding decor to match your color scheme in 10 colors or bridesmaid's gifts. You could hang them in a collage on a wall, or accent a simple wedding sign, like below…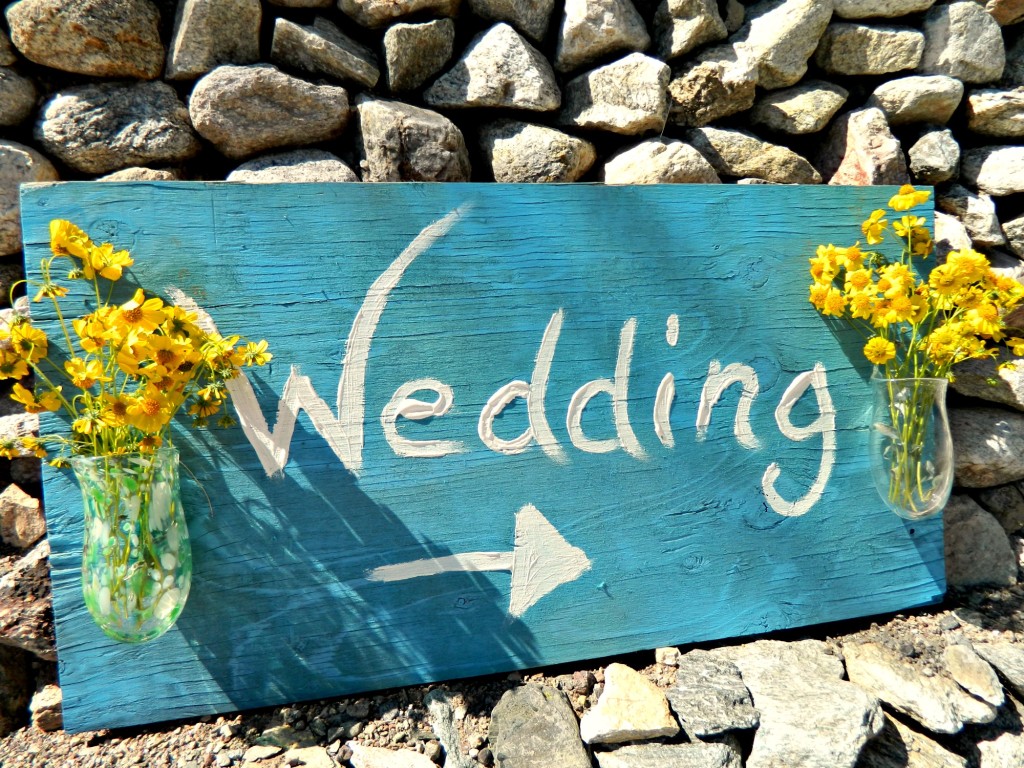 The home is where the heart is. Here are more modern designer ideas for your warming pleasure.
Window Modern Design Treatments by LaDy LaDuke…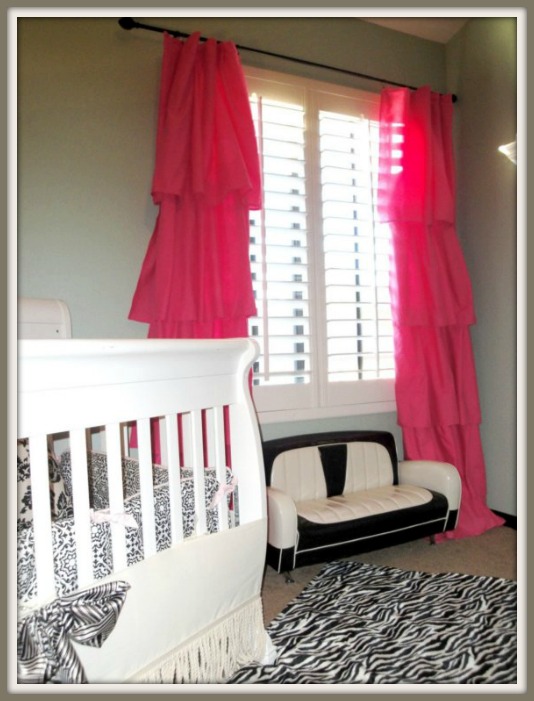 Our Top Seller Window Modern Design Treatment Above: Bella Style Couture Curtains.
A Process of Design Impact…
When you walk around your home, what do you notice in your room design?
Usually, the bigger design elements stand out, and these would of course be your window design treatments.  Your designer modern curtains will have THE biggest impact in your room and home you can possibly implement, and getting the right ideas of style, color and distinctiveness are essential.
Not to mention, if these designer treatments are for your baby or nursery, getting it right in that room feels even better. Don't fight your nesting process and instincts…they are only natural. Your desire to fluff and feather your designer rooms in your home with your new baby is completely normal. 
The Home is Scrubbed with a Toothbrush, You Disinfected the Kitchen Cabinet Knob Screws, You Folded the Baby's Clothes, and Placed them Neatly in the Dresser Drawer–10 Times, Plus, You've Ironed Everything in Site. Your Urge is Uncontrollable! Never Fear…Just Like All Females in the Animal Kingdom, Your Nesting Instinct is Just Alive and Well. So, Nest On…Take Control, and Feel a Sense of Accomplishment…It's Only Natural!"
Does this fit you above? We thought so.
Designer windows bring instant personality into any space.  Curtains can be a punch of color or needed pattern, or can blend calmly in a décor theme.  They are a bolder, large item choice for a significant impact.  If you want more of a modern statement in your rooms or home, a pair of designer drapes will succeed as a single, bigger purchase over many small accessory purchases.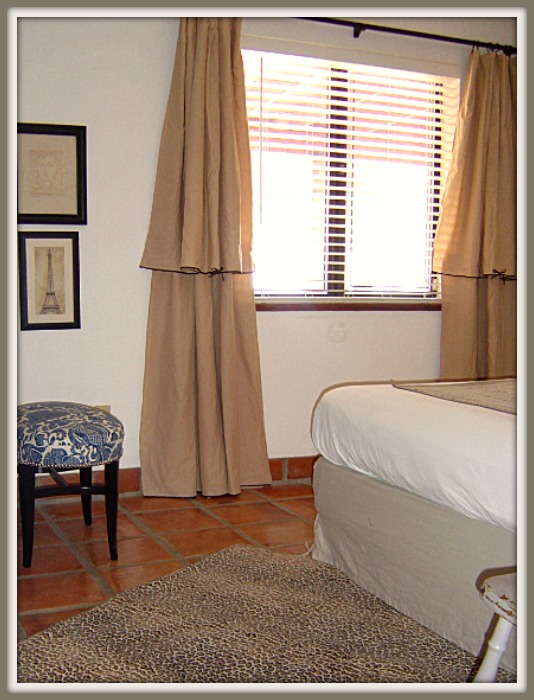 Our Cameron Style Designer Drapes are more streamlined and modern, but you can still punch it up with your ribbon trim and centered bows or not, for whatever look you're trying to achieve in your home design process.
You may spend more money on designer treatments, but they will end up doing so much for you when it comes to the design process and impact of your rooms.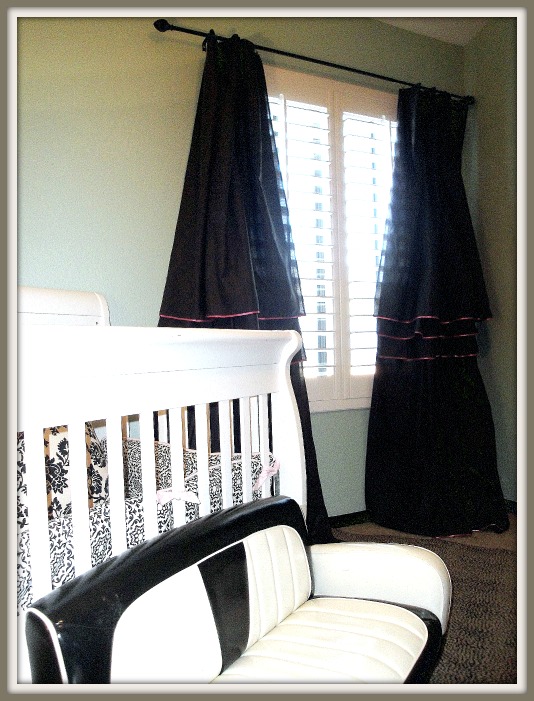 These Chloe Style Modern Designer Drapes can also go without the contrast ribbon, and you can blend your colors for a more tonal look and design process.  Here, they are contrasted with hot pink on charcoal.
Window Treatments Solve Modern Design Problems…
Do you have an awkwardly sized window in your space or is it placed oddly?  Design treatments can fix these unbalances by their size and cut process, and the way you hang them.
For example, if you have an off-centered window on a wall in any rooms of your home, you simply extend your curtain width in fabric, and hang the bar in the center of the wall.  You could also run a designer look along the entire wall, letting an extra sheer modern design panel piece gently stream the light through while hiding the off-center placement of the light source.
Running designer drapes on an entire wall from ceiling to floor can fix most odd window placement, and also allows you to control the light coming into your rooms.  If it is too bright or to exposing to the public, designer modern drapes are your solution.
Design treatments also muffle and absorb sound, so if your rooms have modern wood or tile floors, those louder sounds from those harder surfaces can be absorbed in the curtain fabric on the walls.
Window Modern Design Treatment Personality…
Our Modern Designer do have personality, yet at the same time they are timeless.  Colorful prints will always look great together, and blend with many other items in your room design process.
Curtain design doesn't have to be simple single panels anymore.  Sure, you can always bring in bold color and pattern on a simple panel, but you can also spruce up the modern design and cut of the fabric.
You may have already noticed that we like modern design ruffles here at LaDy LaDuke. They just have a richer and unique look.  Any style designer drapes with ruffles will just make you happy.
For a modern design process, go for striping, ruffles, ribbon or layering for something more unique.  Window style designers are offering much more these days in a designer treatment's cut, or at least we are, so explore your curtain personality options before making that bolder purchase.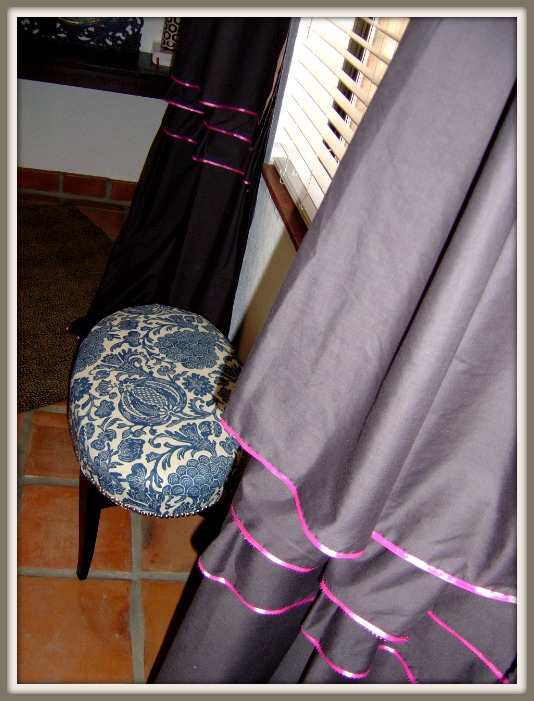 As you can see, not all modern designer treatments that seem to only be for the nursery have to be only for the nursery.  That feeling you get in your baby's room can transfer to other parts of your home.  You can bring in that romance and love you feel with those modern design ruffles and color everywhere.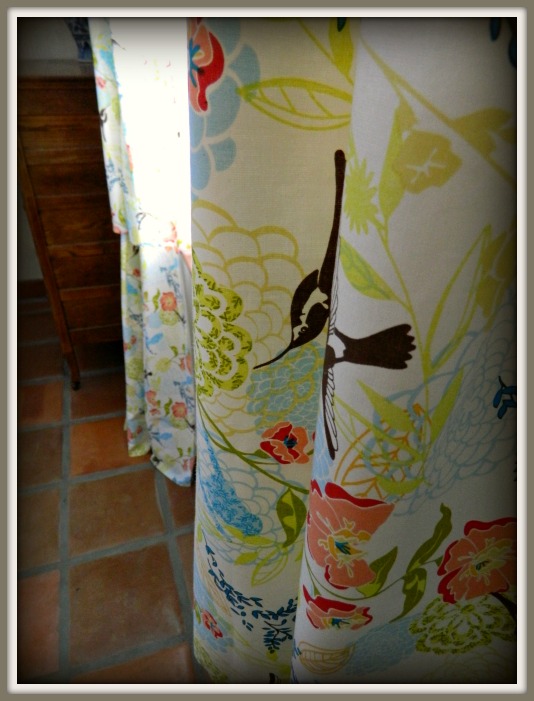 Our Modern Designer Cameron Style in custom order Premium Print Cotton gives you simplicity of style process with a boldness of print and color. Liven up your home with floral prints in any of your rooms, and don't be afraid of mixing pattern with pattern.  A floral print can accompany other prints like stripes or smaller repeat patterns as well.  
Take these modern design ideas, and imagine them in your own home or rooms.  Envision your color and style for the most process of impact, or the most soothing charm you can imagine. Then contact us for any of your custom modern drape designer needs.
~Courtney & Betina, LaDy LaDuke

Home Design & Fashion Design Go Hand in Hand…