Are you reading to your kids yet?
Regardless of the ages of your kids, reading to kids and encouraging them to enjoy reading, while spending that precious time with them makes for a happy home and family.
Before Reading to Kids, here are 4 of the Best Tips to Know First…
1) Why You Should Read to Your Infant
Many people begin reading books to their children from the time they are brand new babies. Why do they do this and should you do the same?
Many experts agree that this is actually a good practice to get into. It might seem strange to read a book to a three month old baby, but, it is a wonderful bonding experience for both you and your baby.
The most important thing that it does is allow you precious time when you are speaking directly to your baby. Babies who are spoken to a lot score higher on standard tests when they are three years old apart from infants who were not spoken to often.
So reading to your babies is just another way to add variety to the time you spend talking to them, and adding to their growing vocabulary and learning.
Reading Just for the Sounds and Pleasure
When your baby hears you read, she hears what a narrative sounds like. She hears the different tones and inflections in your voice and her fast growing brain starts to understand the idea of what a story sounds like.
She might not consciously understand that, but, the brain grows faster at this time than at any other. Helping all of those networks connect is one of the best things we can do for our babies.
More than anything, your baby will begin to associate books and reading with happy, cozy times spent with you cuddling. Because humans are pleasure-seekers, this is an awesome foundation to build for your child in the world of reading.
The more and more we can help our kids to equate reading with pleasant times, the better!
It's very interesting to note that the words of the book don't really matter. They hear the different sounds of our voices, plus the different emotions, and that is the important part.
So now you know you can basically read anything to them, like your current novel, as long as you use lots of emotion and try different voices for the different characters. Reading to kids can be quite comical, but it teaches your babies vocabulary and helps their imaginations develop.
Draw Kids in to Reading More Books with Color
Kids will of course, be drawn to bright colors and stark contrasts that you see in many books. They will enjoy looking at that brightness and sharpness. Then, as your baby gets older, she will become more and more interested in the actual books. She will even soon start grabbing, sucking and chewing on them. Board books and cloth books are great for this.
About this same time, kids will really start to connect the kids books to special time with you. They will understand that when they see you get the book out, it is time for a great cuddle on your lap, and lots of coveted social interaction.
Reading to kids and your baby, if nothing else, is a wonderful peaceful time to spend together. You'll be pleasantly surprised by the long term results.
2) Fun Reading Activities to Grow Your Kid's Love Of Books
There are so many fun activities that we can do with our kids to get them excited about books and the world of reading. When kids are having fun, it is so much easier to draw them into something, like the wonderful world of literature.
It's best to guide and direct them to enjoy it for themselves. Being intrinsically motivated to do something, is much more lasting in motivation. This will form a really strong foundation for their entire school careers.
Reading to Kids…Then Share a Sketch
A fun way to really engage in a story is to read it with your kids and when you are finished, ask your kids their favorite part of the story, and have them draw a picture of that part.
When they are finished, ask them for a short explanation of their picture and that part in the story. Then, you can have them dictate to you, and you write it under their picture, or let them write it if they can.
Play a Guessing Game with Kids Learning
Another engaging activity for your kids and time with books, is to play a guessing game. Each time you turn the page of the book, look at the pictures with your child and have them guess what they think might happening at that point in the story.
Even if they get it wrong, it can be turned into something silly or fun from it.
Reading to Kids with Cookbooks
Reading from a cookbook, and helping you cook, makes kids feel more grown up, and they are learning to listen to, and follow instructions.
You should let your child be in charge of reading the recipe to you as you make the dish. You of course give them guidance, but they can also read the labels on the ingredients that you are using.
For instance, they can help you differentiate between brown sugar and white sugar, and make sure you get the right one. Kids will feel so smart and helpful when you use the wrong one, and they get to correct you.
When you can get kids excited about things like making pictures, funny games that maybe lead to silly stories, helping in the kitchen and feeling like a big kid, you help to raise their confidence and also their motivation to really enjoy books and reading. Getting creative and changing things up can inspire children to get reading and learning!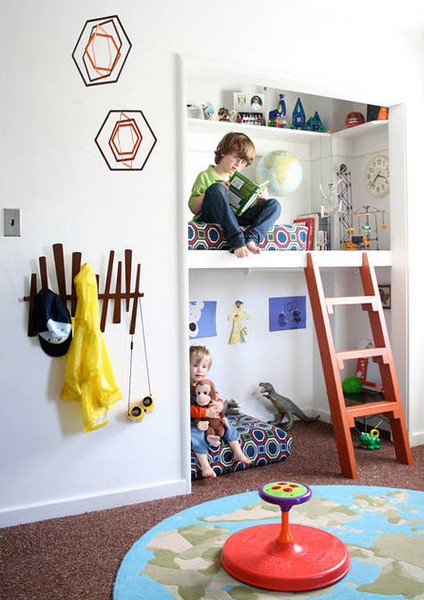 Courtesy of blogs.babycenter.com 
3) A Nook of Books Is A Great Way To Encourage Reading and Learning at Home
A fantastic way to encourage your children to read at home is to provide them with a really comfortable place to do so. Find a place in your home that you can dedicate to reading time only and make it super cozy and really awesome in their eyes, like the closet space above. You can even make it fort-like, and it will become a special place that everyone loves.
Name Your Book Nook
You can call it by name, or even better would be to let kids help to name it. That would make it even more personal to them, and would help them feel more involved in the process of creating this snuggly and special place to enjoy learning and books.
The next step is to work on getting it extra cozy. 
Nook of Books Decor
Working from the floor up, two inexpensive napping mats laid side by side would make a nice foundation base.
On top of the mats, place a few blankets that are really soft and next, a pile of pillows for your readers to get comfortable in just their own way. 
An easy and quick way to add a table for your books is to get a milk crate from the dollar store and turn it upside down in the corner. You can use a large, hardcover book on top of the milk crate for a nice, hard surface.
For lighting in the room or nook, types of lighting that hang from the wall or the ceiling would be best, so there is no worry of the children knocking them over. Steer away from the harsh, bright bulbs and select soft, reader-friendly ones.
Here is a Kids Room Makeover Example that could work for your Nook of Books too…
Make a Sign for Your Book Nook
Decorating for your book nook might just get you and your kids busy with some arts and crafts together. You can make a sign for your reading haven, perhaps even calling it by your family name.
For instance, you might call it "Johnson Family Book Nook". Get the kids involved in the naming process, and try getting creative with alliteration or rhyming.
An example of alliteration works if your last name starts with 'B'. You could call it "Bozwell's Book Nook" if your name is Bozwell.
Names will be fun to brainstorm with the kids. Other things you could make to decorate your reading corner are pictures of books, bookworms, mobiles and their personal artwork.
Run it Like a Learning Library of Books
To make a cozy corner really special, is to have reservations like a learning library. You can set it up similar to checking out books, etc.
A schedule on the wall at the entrance gives their appointed time. Use a laminated chart for dry erase markers to use it over and over. Having your own alloted time in your custom cozy corner makes it even more special.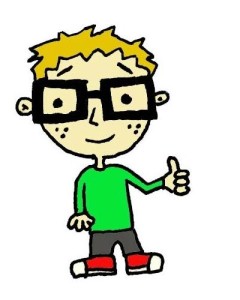 4) Get Your Kids Reading By Labeling Your House…
There is a fun and simple way to get your kids started recognizing and learning some basic words for reading. You can do it easily without even having to spend any money. You just label all of the things in your house for your kids learning. The kids will enjoy getting involved in the ongoing process of labeling things as well.
You will need some small strips of paper. You might adjust the size according to the item you are labeling.  You'll need a pair of scissors, a pen or marker and some tape.
Now, go through the house room by room, looking for things to label. Say, for instance, we started in the kitchen. Some things in the kitchen we could label for kids to learn for reading are: cabinet, microwave, refrigerator, drawer.
Learning & Naming
There are lots of opportunities for kids learning for reading in the kitchen by naming things. Labels might not stick on the oven or the dishwasher when they heat up, and when the dishwasher blows out steam.  But, there are other options, like to keep a stack of paper on the counter, and when you come back from the store once a week, you and your child can learn for reading by labeling cereal boxes, etc.
For kids learning reading, constant repetition of these basic words will help your child recognize them by sight, and can also begin to help with letter recognition. This is a very basic step in the learning to read process for kids.  It will not help with phonics skills, but is however, a very important step and a fun way for your child to begin learning words on his own.
You and your child can get very creative with all of this labeling too.  Some of the strips of paper can be different sizes, according to the thing being labeled. The strips of paper can also be arranged on things differently for reading. For example, you can put the word 'window' vertically on the middle bar that separates two windows. And on Venetian blinds, you can tape the word 'blinds' to an individual blind so that it is easily read for easy reading learning when the blind is closed in the downward position.
Learning with Humor
In this instance, kids are learning reading, and at the same time will think it is so funny because, when you open the blind it will be harder to read. And if you close the blind in the upward position, you won't be able to read it at all. Clever, huh!
This is also a good way to use the things in your house like flashcards to learn for reading. Close the blinds up and quiz your child on the first letter of the word. And if they are advancing even more, you can ask them to spell the word. This could also be done with cabinet doors–open the door all the way so you cannot see the word.
The best thing about using labels all over the house is that your child will consider it 'play' time and not just 'learning' time. Kids love to help you cut the paper and hang the labels, making it more like a craft than an educational, reading and learning experience. All the while, he'll be learning an important foundation to a life of literacy and reading.
Yes, kids learning reading with labels, activities, early infant learning, books and nooks in your homes, are a beautiful combination!
Courtney & Betina~LaDy LaDuke