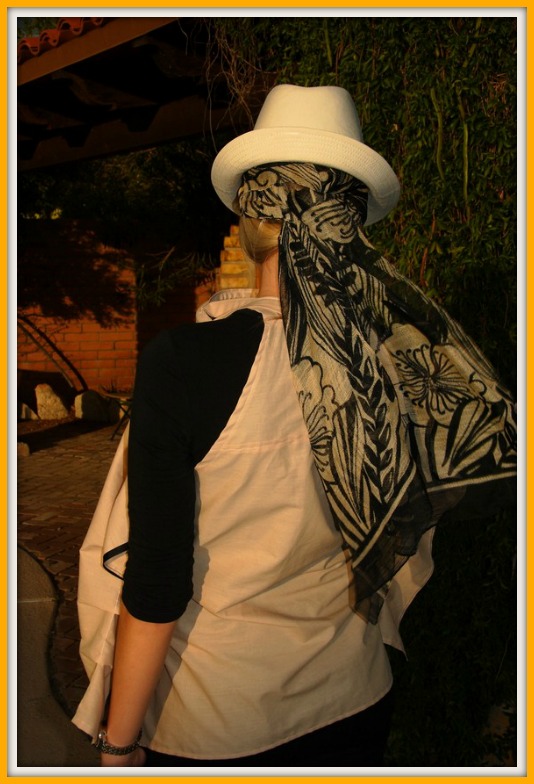 I received my nursing cover yesterday. I love it already. It's beautiful and the fabric is light and breathable. I love the back cover and I'm sure I will use it all the time. Thank you for the superb costumer service and for making a nursing cover that fits all my needs! I must have gone to 20-30 websites looking for a cover and you sure have the best ones in my opinion. Thank you.~Andrea
Are you shopping and comparing adult breastfeeding covers right now?
If you are, and you came across our Ultimate Feeder Frock Adult Breastfeeding Cover, you might want to know why it beats 20-30 others like our customer said above.
Before reading the story of our design to hide all those parts we love breastfeeding in public, with our Ultimate Feeder Frock Nursing Covers, you might want some quick details on the competition breaking features…
The Feeder Frock for Adult Breastfeeding will Hide Parts with a Wider Cover
*Most adult breastfeeding covers on the market are just 36″ wide, while our nursing covers are 42″ wide.
*Our Feeder Frock adult breastfeeding tops start with much more fabric to cover you and your baby, and if you or your baby are a little larger, you'll have no problem.
*You are getting much more fabric to cover and hide all those parts you want hidden in public than the competition, and much more for your money as you compare prices of adult breastfeeding covers on the market.
Ultimate Adult Breastfeeding Means Quality in Construction
*Our Designer Adult Breastfeeding Feeder Frocks are double stitched for strength, as well as individually tested.
When I created the Feeder Frock design, I read online a lot about moms being unhappy with the typical boning in the neckline for viewing. I knew this part of the design was really important to function right, hide all the parts needed, yet give that connection and bonding for a mom and baby.
*Our Memory Wire-Viewing or Privacy Neckline is not only the strongest and sturdiest in nursing tops, not like the flimsy competition, but offers versatility and flexibility to shape it as needed, or flatten it to hide those parts for privacy.
Adult Breastfeeding in Style with Ultimate Function
*Our signature full coverage back cover, ruffles and pockets are original design ideas since January 2009, when we opened our Etsy Shop. 
*The style and function just wasn't out there, and I wanted to bring something to the market that was different and better. When you see other adult breastfeeding covers with ruffles and pocket style features, they are a copy of our original, signature styles. They do say the best form of flattery is being copied.
*Instead of just a single hemmed-rectangle piece of fabric you find out there, we wanted to create special designs that not only gave adult breastfeeding moms a way to be chic and unique, but to hold baby items in a front deep pocket.  
*Plus, you look like you're wearing really cute tops, instead of obvious adult breastfeeding covers with numerous style and color choices intended to blend with a mommy fashionista wardrobe.
*The other part of the function in design that fits all of your needs to hide parts, is that by adding the back cover as your

Ultimate Style

, you have

2 nursing covers in 1

.
*If you are just sitting to breastfeed on a couch or in a restaurant booth or airplane, you have just a wider, very chic and functional

FRONT cover

.  If you are moving around, like pushing a stroller or chasing your toddler, you add the

back cover

, tie it on your body, and you're ready to go mobile 

fully covered

.
*If you're not sure about needing or adding the back cover for your adult breastfeeding needs, you can always come back to our shop, and order a matching one anytime.

The back cover

of our Ultimate Adult Breastfeeding Feeder Frocks is just $9 with free shipping.
*The nice thing about that, is you can select another

FREE gift

with purchase on another order!  All our customers get to select from The Simple Mom & Bride Books or Kids Books, adding even more value to your purchase.
Adult Breastfeeding to Hide & Flatter Plus Size Parts
*We are Adult Breastfeeding Designers who cater to plus size women. Not only for the great pricing, but for the custom services we can provide.
*We've been taking care of

Plus Size Women

and their adult breastfeeding needs for over 6 years now, and we know how to make things fit. We know how to hide and flatter all those parts of your body you want hidden in public, during your intimate moments with baby.
So now that you know the special features of your Ultimate Feeder Frock for adult breastfeeding, here's the story behind its design evolution…
Design ideas evolve over time, and when thinking back to October 2008, when the notion of The Feeder Frock nursing cover was born to hide parts in public, and Betina and I looked at each other, and said, "Let's do it!"…little did I know that tiny design idea would come this far in our story…This is why the word "ultimate" nursing cover is appropriate.
The Ultimate Feeder Frock Adult Breastfeeding Story…
An ultimate adult breastfeeding design has been my quest all along. Yet, it takes the experience, feedback from customers, and the constant push for product improvement which leads you to an ultimate solution.  
It really does have to evolve on its own.  I wish I had thought of The Ultimate Feeder Frock nursing from the get go, but it just doesn't work that way.
First, Betina and I weren't even designers or adult breastfeeding seamstresses that we knew of, but we both had some experience in business.  How in the world did we go from there to here?  It's quite strange to look back at it now.
If you were there with us at the Pumpkin Patch with our sister-in-law, struggling to breastfeed, hide her certain parts, while chasing her toddler, and hear us declare we were going to create something to fix that for Moms, you'd say, "Yah, sure you will."  
But we did!
I discovered my design skills by seeing shapes and patterns that fit together at a very late age, building giant-dry slab rock walls. The greater challenge was to take those skills, and apply them to fabric and sewing.  
It was quite different, and quite rough and sloppy at first, but like with anything, if you practice, you can make perfect, or at least as close as you can to ultimate perfection.
I'll fast forward now from the initial and numerous prototypes of our adult breastfeeding invention, to adding many styles of our Feeder Frock, our signature front deep pocket, from just a FRONT cover for Moms who prefer that, to now our

2 in 1  Feeder Frock nursing clothes

 with front coverage when you need it, and full coverage to hide certain parts when you want it…
All-In-One ULTIMATE Nursing Cover Adult Breastfeeding Style.  
We always stuck to our goal of offering the most style and function we could possibly think of and create, and by doing that we were able to accomplish our adult breastfeeding Ultimate Feeder Frock nursing cover design idea evolution. It's been quite the journey.
Thanks for reading our story!
Courtney & Betina~LaDy LaDuke
You can win one of our Nursing Cover Feeder Frocks, and any type or style of adult breastfeeding coverage you like by subscribing to our newsletter.
*See details below.