Living Simple Style Can Come from a Single Color…
Orange.
Why not? It makes a statement, makes you happy, and it lends voluntary simplicity through its impact.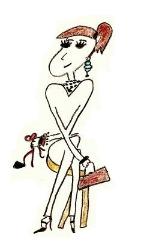 Orange

has a history.  Here's a bit from Wikipedia with details you probably did not know about this distinctive, yet simple living color style…
Before the late 15th century, the color orange existed in Europe, but without the name; it was simply called yellow-red. Spanish and Portuguese merchants brought the first orange trees to Europe from Asia in the late 15th and early 16th century, along with the sanskrit name "naranga," which gradually became "orange" in English. In parts of Germany, the Netherlands, and Russia, the orange fruit was and is still called the Chinese apple.

In France, painters took orange in an entirely different direction. In 1872, Claude Monet painted Impression Sunrise, a tiny orange sun and some orange light reflected on the clouds and water in the centre of a hazy blue landscape. This painting gave its name to the impressionist movement.

Thanks to William III, orange became an important political colour in Britain and Europe. William was a Protestant, and as such he defended the Protestant minority of Ireland against the majority Roman Catholic population. As a result, the Protestants of Ireland were known as Orangemen. Orange eventually became one of the colours of the Irish flag, symbolizing the Protestant heritage.
But, as you know being a regular reader here at Mommy LaDy Club, we do simple living, fashion and style from fellow Etsy Artists to celebrate and support their work and businesses.  This time, we're picking the best of Voluntary Simplicity in Style from 

Orange

we can find…
Simple Life of Living in Simplicity…
– antique wood circle mold –

:: a heavy wood mold originally used at US Steel plant
:: fantastic industrial decor, perfect for your shelf or mantle
:: architectural salvage for your home!

— Dimensions —
:: 19.5 inch diameter
:: 2.5 inches deep
Voluntary Simplicity of a Simple Life…
This is a collection of four plastic dinosaur wine stoppers. The bottle stoppers are made with painted plastic dinosaur behinds and are then secured onto cork wine stoppers to add a little bit of quirkiness to any bottle of wine or bottle of anything really! Please note that the assortment of dinosaurs vary and you will get four different kinds of dinosaurs but are not limited to the ones pictured.

They make great gifts!!

These dinosaur wine stoppers are lovingly handmade by my husband and I. We take our time creating each piece to make sure that each one we make is uniquely special. The animals are cut, painted, and packaged under the roof of our little Plastidermy studio.
Simple Life of Living in Simplicity…
Salmon Shorts from thesecretPal:
"Draped shorts of salmon".
These elaborately draped shorts has a wrinkle under the front yoke and is fully lined. There is a hidden seam zipper in mid back.
Voluntary Simplicity of a Simple Life…
This pocket-sized pachyderm is ready to convey your feelings toward someone special. Carefully needle felted entirely out of a soft, gray wool it stands a bit more than 2 inches tall and about 3 inches long.

Elephant you receive will vary slightly from the one pictured. It will be very close in size, shape and color, but will be equally as cute.
Simple Life of Living in Simplicity…
Letter C by Vintage Marquee Lights:
The "Original" Vintage Marquee Lights!

OFTEN IMITATED-NEVER DUPLICATED

We are the #1 home decor item on Etsy!

Here's what some of our customers have to say:

–Jillian (jctoler) says:
WOW! These are amazing! Very well crafted and worth the money. We are going to really enjoy them at our wedding reception and on top of our entertainment center afterwards.

–Lisa Brown (lisabrown405) says:
Jerrad, you are the light fairy from heaven! I am so glad I found you and you were willing to ship to the UK – I just wish you would stop making these now so I could remain the mysterious, coolest light owner and no one could copy me – ha! I was expecting it to be good (obv. or I wouldn't have bought it) but when it arrived it was much more substantial than I imagined – very impressive.
Voluntary Simplicity of a Simple Life…
***Get an INSTANT MAKEOVER for your home just by changing the pillows!!! My pillow covers are SLIPCOVERS for your pillows! They can be slipped on a pillow you already have or over a pillow form purchased from any craft store or even online***
Simple Life of Living in Simplicity…
A secret place to hide your most precious things–a baby tooth waiting for the tooth fairy or your grandmother's wedding ring. Our wooden apple boxes are carefully hand painted with patterns that evoke a bit of old world charm. Has the power to stop a toddler mid-tantrum and make grumpy grandfathers smile.

Measures 2-7/8″ X 2-3/16″ with 1-1/2″ inside depth. The size/shape is similar to a classic Delicious apple. Hardwood with leather stem.

Each apple and pattern is unique.
Voluntary Simplicity of a Simple Life…
This is a loose fitting, plus sized, short white silk dress which has been hand waxed and painted by using traditional batik techniques. This abstract piece has been designed by freehand and completely unique. Because it is OOAK, a piece that is similar can be replicated to an extent, but no two will ever be exactly the same.

If you would like to order something similar but different to suit your own personal tastes, please send me a message and let`s discuss!

After drying, all our batiks are set with textile fixer, then double boiled and ironed to ensure color steadfastness and long-term durability.
Simple Living in Voluntary Simplicity…
Dog Toy Carrot measures approximately 3 inches wide at the top and is 7.5 inches long, not including the 'leaves' which are approximately 5.5 inches long on average.

The carrot is made from 100% cotton medium weight fabric and contains a squeaker. As with all my dog toys, this toy can be made without the squeaker. Please let me know if you would not like the squeaker included when you place your order.
Voluntary Simplicity of a Simple Life…
Throw these on every day and be comfortable and stylish.

If you're tired of those maternity clothes you can't ever wear again, stop right here!

You always need that staple item in your closet, that you know you can throw on, look great, it will fit you a little larger or even a little smaller, it's really comfortable, and you have it in a bunch of colors, because you'll probably just wear the same thing in the other color tomorrow…right?

If this is you, then LaChicSewEasy Modest Clothing Fashion is your ticket!

LaChicSewEasy Clothes are Designed to Fit with Your Pregnant Belly or Not. The Tops Stretch, Drape & Bounce Back & the Wrap Skirt Sits Lower on Your Hips & Adjusts with Velcro for Your Changing Body to Work for Sizes XS-XL or Pregnant or Not.
Simple Living is in 

Color

 & You Can Wear It…
Courtney & Betina~LaDy LaDuke
Catch more Voluntary Simplicity of Top Fashion & Styles
Here!